Rise in gas prices causes concern among businesses
With gas prices expected to rise for the second straight year this summer, some local businesses are feeling the crunch.
Mark Bichelmeyer, owner of Bichelmeyer Brothers Grocery in Basehor, said the cost of gasoline has gotten so out of hand that the profit he makes from gasoline doesn't even cover the cost of paying one of his employees to work at the cash register for a full day.
"That's why you don't see many places that just sell gas, like you used to," Bichelmeyer said.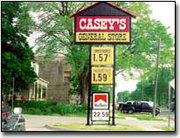 Bichelmeyer said when he gets a shipment of gas delivered to his store, he has to pay federal and state taxes on the gas per gallon. After paying the taxes, there is just a small amount left, Bichelmeyer said.
"We don't make very much money off selling gas," Bichelmeyer said. "When the cost of gas goes up, so does everything else. Our shipping costs have gone up and our taxes have gone up. Somebody is making the money, but it's not the guy's selling the gas."
Shawn Stevens, owner of Elite Electric in Basehor, has 13 trucks for his company. Stevens said his company pays approximately $3,500 a month for fuel.
To keep up with the escalating costs, Stevens said his company has had to make financial cuts in other areas to compensate for the price hike.
According to the AAA of Kansas, the expected rise in gasoline prices for this summer should not be blamed on the Organization of Petroleum Exporting Countries, also known as OPEC.
Cherie Sage, public affairs coordinator for AAA of Kansas, said the price hikes for gasoline in the U.S. are largely self-inflicted. The problem stems from a lack of investment in oil refineries and oil distribution from policy decisions made by the government during the past several years, Sage said.
In a phone interview on Tuesday, Sage said gasoline prices for the Midwest could begin to jump even higher. Sage said she has been informed that a refinery that services St. Louis and Chicago has been put off-line and that Kansas could be affected by the refinery shutdown.
While many people blame the government for the gasoline prices, some politicians are making efforts to emphasize the need for government action regarding the hikes.
Congressman Dennis Moore, third district of Kansas has written a letter to Energy Secretary Spencer Abraham urging him to make increased OPEC oil production a priority in his talks with the Saudi Arabian oil minister. Moore has also asked the Bush administration to address the oil demand and the oil distribution issues.