Labor program provides help for city and working inmates
Although inmates from the Lansing Correctional Facility have been used for labor purposes in area communities for years, the idea of prisoners working in the city of Basehor is a relatively new one.
According to prison officials, the program that places low-risk, short-term inmates in communities such as Basehor for labor intensive purposes has been around for almost 100 years.
The city of Basehor has had the program instituted for four years and according to City Superintendent Gene Myracle, the city is reaping the benefits of the program.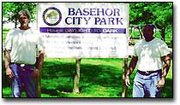 "The community benefits from the extra work force that is provided," Myracle said. "Being that we are a smaller community, it really benefits us with being able to complete more projects and get more work done."
In addition to the extra work that is done by the inmates, the city also saves a large amount of money by using inmate labor. Although the inmates receive a small amount of money, $11 to $21 a month from the prison, the city does not pay the inmates.
According to prison statistics, inmates working for the city of Basehor logged more than 2,500 hours last year. This year, that number could be more than 4,000.
At minimum wage, and not considering any benefits, the city of Basehor has saved upwards of $25,000 in payroll costs alone. The figures for the state of Kansas are even larger. Last year, inmate labor totals for northeast Kansas were over 213,000 hours, saving the state close to $1 million.
The city of Basehor currently has two inmates from Lansing working for the public works department. Inmates Jamal Freeman and Billy Phillips both have less than two months left on their prison sentences and work with city employees on the general upkeep of the community.
The program is designed for not only the benefit of the community, but also to the inmates themselves. While on the job, the inmates receive a chance to learn a trade that will benefit them when they are released, Myracle said.
"It helps to get back to working again instead of laying around all day," Phillips said. "It helps to get ready for when I get out, I won't feel so weird around people. And Gene is a pretty good boss and doesn't treat us like we're lower than anybody."
Phillips has 55 days left on his sentence.
Freeman hopes to land a job in construction when he is released 38 days from now and also said the program has been beneficial.
"For me, it gets me ready for society again and to start working," Freeman said. "It teaches me more job skills and the guys here treat us like people and that's the truth."
Michael David, public information director at LCF said there should be little concern over any danger an inmate in the the program might pose.
"Any inmate that goes out into the community has to be minimum custody, minimum security," David said. "They are what we call low risk offenders, they are getting ready to be released for drug offenses or property crimes. Anytime we send an inmate out into the community we send what we call a 'clean crew' which means no sex offenders. The big thing is that these guys are going to get out shortly and wouldn't make sense for them to do something stupid."
Inmates from the LCF are used for two types of projects, long-term and short-term. Anything longer than 30 days is considered long-term, David said. A typical short-term project is less than 30 days and work usage in that capacity sometimes stems from an emergency situation.
Last year after a tornado hit in Tonganoxie inmates from the LCF was brought in to perform cleanup in the town. Other area projects inmates have been involved in are painting the Lansing Intermediate School as well as street maintenance in Lansing.
According to David, it is a mutual benefiting society when area cities and the LCF institute these types of programs.
"They work and feel good about doing something," David said. "Statistics show that if an inmate is working and being productive. then there is less chance for them of coming back in and that's our goal, to keep these guys out. If they are not here, then they are back there (at LCF) picking up cigarette butts. They can come out here, get some fresh air and be treated like a person and not just an inmate. It's more real life."