School bus hits car on 24/40 Highway
Lawrence woman killed in wreck
A Lawrence woman was killed in a two-car wreck Tuesday afternoon outside Basehor.
Katherine Mika, 19, was driving her 1988 Ford Taurus east on Kansas Highway 24/40 when her vehicle was struck by a school bus at the intersection of 24/40 and County Road 2.
According to the Leavenworth County Sheriff's Department, Mika had to be extracted from the car and was pronounced dead at the scene. She was wearing her seat belt at the time of the wreck.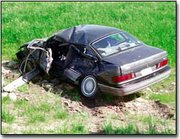 The school bus was driven by Nina Kreutzer, 68, of Basehor. According to initial reports, deputies said the bus was attempting to turn south onto County Road 2 when it struck the driver's side door of Mika's car.
There were no passengers in the school bus at the time of the crash, and Kreutzer did not sustain any injuries.
Kreutzer had just finished her bus route, dropping Basehor-Linwood Middle School students off. She was returning the bus to the bus service parking lot at Glenwood Ridge Elementary School.
Although the cause of death is believed to be from injuries sustained in the crash, an autopsy was scheduled for Wednesday morning at the University of Kansas Medical Center.
As of press time, the Leavenworth County Sheriff's Department had not determined which driver caused the accident.
Deputies said the investigation is on going and could take two to three weeks before a cause can be established. The investigation will include routine chemical analysis from both drivers.
The department will also try to determine how fast the Ford Taurus was traveling at the time of the accident through reconstruction of the car and by examining skid marks left behind at the scene. In making their final determination, investigators will also take into account eyewitness testimony of the accident.
Other agencies that responded to the scene were the Basehor Police Department, Leavenworth County Emergency Medical Service and the Fairmount Township Fire Department.