Lady Bobcats win 4A regional opener
For a first-round opener, the Basehor-Linwood softball team started off on the right foot.
The second-seeded Lady Bobcats opened the Class 4A regional tournament Monday with a 3-0 victory over Eudora, moving into the semifinal round.
Basehor-Linwood faced Sumner Academy on Wednesday for the right to advance to the title game later that evening. Results were not available at press time.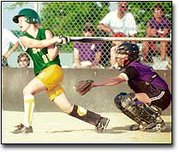 The Bobcats finished out the regular season with a home split against Blue Valley Northwest and a league loss at Santa Fe Trail. Basehor-Linwood came into the postseason with a 15-4 record.
Monday's recap
Basehor-Linwood 3, Eudora 0
Junior pitcher Courtney Reed hurled a three-hit shutout to register the Bobcats' postseason win.
Reed struck out 13, fanning eight of the first nine batters. Although Eudora reached base three times, no Cardinal runner reached second base.
Basehor-Linwood forged a two-out rally in the third to score a pair of runs. Kara Lackner slapped a single to left field, followed by Kelly Laffere being hit by a pitch.
After a wild pitch moved both runners in scoring position, senior Jackie Horn hit a two-run single to right-center, giving the Bobcats the only run support they would need.
In the fifth, junior Christina McCarty added insurance when she scored on Laffere's groundout.
Thursday's recap
Game 1 Blue Valley Northwest 6, Basehor-Linwood 3
Basehor-Linwood could not overcome a six-run deficit as the Bobcats make two errors that fueled a five-run second inning.
"I'm disappointed in the way that we carried ourselves," head coach Susan Mayberry said. "It's that time of year where you have to start putting things together. I don't feel like we played with a lot of pride in the first three innings."
Trailing 6-1 in the sixth inning, the Bobcats made a late rally to salvage what pride they had left.
Courtney Reed's single to right-center field scored Jackie Horn, while Reed later scored on a Husky defensive miscue.
Horn broke Northwest's shutout bid in the fourth inning with a one-out triple to center. The senior catcher then came home on Reed's sacrifice fly.
Reed (15-4) took the loss, striking out six and allowing two earned runs.
Game 2 Basehor-Linwood 2, Blue Valley Northwest 0
The hosts came back in the nightcap with a pair of runs in the sixth inning to earn the sweep.
Basehor-Linwood senior Jackie Horn's RBI single that scored junior Kara Lackner proved to be the difference. Horn later scored on an error.
Courtney Reed went the distance again, tossing a three-hit shutout. Reed relied more on her defense as 24 of the 26 batters she faced put the ball in play.
Although unhappy with a split against the 6A school, Mayberry noted that the non-league games were a good test for her squad.
"We've tried to schedule this game for the last couple of years, but we were locked into our schedule," Mayberry said. "We want to see how good we are. I have a great deal of respect for (Northwest)."
Wednesday's recap
Santa Fe Trail 1,
Basehor-Linwood 0 (11 innings)
The Lady Bobcats had their six-game winning streak snapped at Carbondale, when Santa Fe Trail scored the game's lone run in the bottom of the 11th inning
Santa Fe Trail opened the inning with a single, then a passed ball moved the runner in scoring position. Another single advanced the lead runner to third, but the Bobcats trapped her in a rundown.
While the melee was going on, the batter runner reached third base, allowing catcher Jackie Horn to tag out the lead runner. A high infield chopper to the left side allowed the winning run to score.
Basehor-Linwood's only scoring chance came in the top half of the 11th when Kara Lackner hit a two-out double.
Lackner then reached third on an error, but was thrown out at home when the first baseman recovered to throw home.
Courtney Reed threw a complete game six-hitter, fanning 10 Charger batters and walking one.