Bobcats wiped out by Cyclones
Many will look back at the 2001 Basehor-Linwood baseball season in awe.
Judging by the grim Bobcat faces leaving the visiting dugout last Wednesday at Eisenhower Field, the season will be remembered as one that ended too soon.
The top-seeded Bobcats were ousted in Class 4A semifinal regional competition by Bishop Ward, 12-5.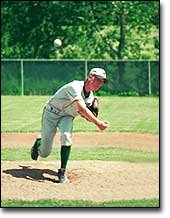 The Huron League champion Cyclones went on to defeat Mill Valley, 5-3, in the title game to advance to the Class 4A State baseball tournament, which starts Friday in Mulvane, Kan.
"(The season) definitely ended too early for us," Basehor-Linwood head coach Kevin Suther said. "We had a roller coaster ride in that game. We hit the ball good enough to win and we fielded very badly. That sums up the game."
The Bobcats (16-5) nearly rebounded from a 7-0 deficit, but miscues to follow put the game out of reach.
Six errors turned out to be the knife in the back for Basehor-Linwood, which allowed Ward to tally eight runs in the three final Cyclone innings.
"Defensively, the pressure was on them a little bit more," Suther said. "The last few weeks, we've tried to build up our confidence, but our confidence on defense gradually went down."
"It's not our talent," added Suther. "It's not because of our capability. I think it was upstairs not believing. If we believe in our defense like we believe in our hitting, we would be a hard team to stop."
The Bobcats scored twice in the fourth, then added a three-run fifth to pull within 7-5.
BLHS sophomore Chris Maleta had the key hit with a one-out, two-run double in the fifth. Bobcat senior Brandon Lasley followed with an RBI single to score Maleta.
Ward countered back by taking advantage of fielding errors and using offensive baserunning tactics to pull away.
"Ward is a team that is fundamental gets it done," Suther said. "They didn't have a lot of hits against us, but they get walks, they hustle everywhere and take those extra bases.
"They do all those fundamental things that we need to do a little bit better."
The errors marred a good pitching performance from senior Ryan Marx. Allowing only four earned runs, Marx went 6 2/3 innings before giving way to sophomore Brandon Dye.
Suther strategically worked his staff the week before regionals, throwing a handful of pitchers in order to rest up for the tournament.
"I was willing to go all out with Ryan," Suther said. "He pitched an excellent game and did what it took to win. There had to have been only two hits going into the seventh inning and you can't ask for much more than that. He fought through with all the errors we had."
Notes...
This will be Ward's fifth consecutive trip to the Class 4A State tournament.
Under fifth-year head coach Dennis Hurla, the Cyclones have won two State titles (1998, '99) and two runner-up finishes ('97, '00).
* * * *

Although no Kaw Valley League school made its way out of the regional, there will be one lone representative this weekend in 4A competition.
Santa Fe Trail earned the top seed for this weekend's tournament and will face Topeka Hayden.
Should Trail win on Friday, the Chargers will play the Ward-Pratt winner Saturday.
* * * *

Wednesday's loss saw the ending tenure of seniors Travis Fouts, Chad Holland, Mike Horn, Brandon Lasley, and Ryan Marx.
"We had a lot of senior leadership on some key positions," BLHS head coach Kevin Suther said. "We're going to have some junior varsity players work hard in the summer. We have a very strong sophomore class, with a lot of strong leaders."