Bonner Springs sends strong core to Wichita
"Unbelievable."
That's the term Bonner Springs head track coach Jim Mitchell used to describe the performance by his boys and girls track teams at the Topeka Seaman 5A regional meet last Friday.
That isn't an exaggeration as the boys surprised the field by placing third, while the girls set a school record in the 4x800-meter relay.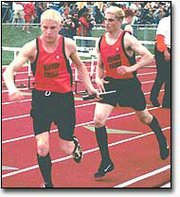 In all, Bonner Springs is sending 18 entrants to the Kansas 5A track meet, which will be held on Friday and Saturday, May 25-26, at Cessna Stadium on the campus of Wichita State University.
"It's nice to see your athletes peak at the right time," Mitchell said. "The coaches' goal was to get as many to state as possible. We had 27 compete (at the regional) and we are taking 18 to state."
As far as anyone can remember, the 18 who qualified this year are the most that Bonner Springs has ever sent to a state meet.
The boys team scored 71 points and placed third behind Seaman, 168, and Topeka West, 75. Shawnee Heights was fourth with 66 points.
The top three finishers in each event qualify for the state and the top two fourth places times or distances in each event are added to the field for the meet at WSU.
Mitchell credited a surprise performance by the 4x400-meter relay team as being a major factor in the high team finish.
"We put together a competitive 4x400-meter relay team and that was probably the most exciting race of the night," he said. "It really surprised a lot of people because as long as I've been here we haven't been very competitive in that race."
Anthony Cox, Brock Peterson, Steve Lutjen and Romie Hall combined for a second-place finish at 3:29.50. They were a half-second behind first place Seaman.
Hall led the Bonner Springs scoring with a first place in the 100-meters event, second in the 200-meters and ran legs on the 4x800 (first place), 4x400 (second) and 4x100-meter (fourth) relay teams.
A junior, Hall has won his last two 100-meter races, taking the Huron League title the week before winning the regionals. He credited the workout regimen for his success. "It has really helped at the meets," he said.
Bonner Springs other first place came in the 4x800-meter relay team. Cox, Mike Ashford, Lutjen and Brock Peterson combined for a time of 8:12.70 and defeated second place Seaman by 1.2 seconds. Mitchell praised their performance and added "they ran 11 seconds faster than they did all year."
Peterson placed third in his specialty, the 1,600-meters and was timed in 4:43.60. Weathers add a third place finish in the 300-meter intermediate hurdles while Lutjen was third in the 800-meters at 2:03.50 and finished .60 of a second out of first place. Both Weathers and Lutjen are sophomores.
One of the surprise qualifiers was Jason Coleman who placed third in the discus with a throw of 130-meet-9 inches. "He was determined to make it since this is his senior year," Mitchell added.
He said that he had hoped that senior Angelique Howard, who was fourth in the shot put would qualify. Howard will be making the trip to Wichita as alternate on the 4x800-meter relay team.
The girls 4x800-meter relay team placed second and set a new school record at 10:14.70. The previous record was 10:21.30 and was established in 2000. Members of the record-breaking team are Corrine Vandenberg, Kristine Knutter, Bonnie Assmann, Morgan McConico.
Junior Meryl Miller qualified for the state in the girls pole vault by placing second. Miller cleared 7-feet-6 inches.
Vandenberg placed fourth in the 800-meters but her time of 2:28.60 qualified her for the state meet. She was the only Bonner Springs fourth place finisher to earn a trip to the state. Mitchell said he had hoped that senior Travis Slankard would qualify in the 300-meter intermediate hurdles. He was fifth in the 110-meter hurdles. "It was too bad that he didn't make it, he had a great meet," Mitchell said.
Those who will be going to the state meet follow:
Girls
Bonnie Assmann, Kristine Knutter, Morgan McConico, 4x800-meter relay; Corrine Vandenberg, 4x800-meter relay, 800-meters; Meryl Miller, pole vault; Kathy Yates, Angelique Howard, 4x800-meter alternates.
Boys
Brock Peterson, 4x800, 4x400-meter relays, 1,600 meters; Romie Hall, 100, 200-meters, 4x400-meter relay; Steve Lutjen, 4x800, 4x400-meter relays, 800-meters; Mike Ashford, 4x800-meter relay; Aaron Weathers, 300-meter hurdles, 4x400-meter relay alternate; Jason Coleman, discus; Ryan Hall, Devin Pino, Donnie Shepherd, 4x800-meter relay alternates
"We (the coaches) are so proud of this year's team. They have worked hard, competed and are now seeing the rewards for their hard work," Mitchell said. "This is a special team. We have great kids and great parent support."
He said it was sad to see the senior class walk across the stage at graduation last Friday. "They are a very special group of young adults," he said.