Graduates say goodbye to Basehor-Linwood
With the past four years of work behind them and the rest of their lives to go, 123 Basehor-Linwood High School seniors walked to the stage and received their diplomas last Thursday.
Commencement ceremonies took place inside the high school gymnasium and there wasn't an open seat in the house as the evening began. The gymnasium has a capacity of 2,500 and there was standing room only for anyone arriving late.
Typically, there is only one valedictorian in the graduating class who gives a speech during the ceremony. This year, however, there were three valedictorians because the three students Kelly Laffere, Nicole Perry and Alisha Lidtke tied for overall grade point average.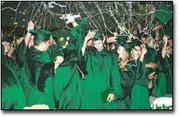 In her speech, Laffere said the class should not hold back in pursuing its dreams after high school.
"Finally, I turn to you the class of 2001 and ask you never let anyone hold you back," Laffere said. "That you search to find out who you are, what you stand for, to always remain true to yourselves and never settle for anything just because it is easy, for you will only be cheating yourself in the long run."
Perry echoed the same sentiments as Laffere in her speech.
"Each person has a spark inside which is uniquely there own," Perry said. "Those people who choose to smother that spark never get far in life. They can never truly be happy because they are going against their own instincts in nearly everything they do. I encourage each of you to listen to that inner spark, just to see where it leads you."
Lidtke said that she and the other seniors would remember they're high school days as well as their time spent with family and friends. She also wished her fellow seniors good luck.
Two salutatorians were also named for the event, Laura Wells and Jenny Cochran.
Prior to the valedictorians speech, Basehor-Linwood High School Principal Bill Hatfield named the male and female senior athletes of the year as well as recipients for local scholarships. All told, 39 graduates received an academic or athletic scholarship. Athlete of the year honors went to Travis Fouts and Jackie Horn.
During the evening Laffere was also presented with the Faye Carney Gehl scholarship, worth approximately $10,000. The scholarship is named in honor of Gehl, a 1961 graduate of Basehor High School and was awarded to Laffere by Gehl's daughter, Susan Jo. Laffere plans to attend Baker University in the fall.
At the end of the evening, diplomas were presented to graduates by school board vice president Randy Cunningham and president Kerry Mueller.