State quest ends quietly for Dukes
Wichita — Excitement, nervousness and disappointment all came to Katie Dukes in about a thirty-minute span Friday.
Just eager to be there, the Basehor-Linwood freshman tried to progress her way into the 4A shot put finals at the Kansas State High School Track and Field Championships.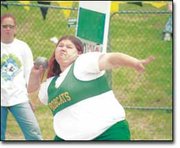 But after four preliminary throws, a jittery Dukes failed to make the cut, leaving a void filled with disappointment.
"I felt quite a bit of pressure, but not as much, because I wasn't expected to do much," Dukes said. "I was expecting to do more here, but I have three more years."
Although falling short of her goal of reaching the finals, Dukes managed to achieve one feat setting a personal record. A preliminary throw of 34-6 set a new personal best for Dukes, who reached the 34-even mark in regional competition.
"She accomplished one goal and missed the other one that was important to her, but the nice thing is that she's a freshman and she gets to try again," said Basehor-Linwood head track and field coach Paul Brown. "It was hard on her knowing that she didn't make it, but that's ok. You want that competitive spirit in kids. That's what gives them a chance later on to be champions."
Dukes finished 12th out of 14 individuals in the 4A field. The freshman missed out on the finals by two feet (36-6), as the top seven throws moved on.
Concordia's Taby Robbins came away with top honors in the event with a 42-9 throw.
Competitive at the state level is nothing new to the Dukes' family, as brother Matt finished runner-up in the 4A 140-pound division back in February. So when her brother prepped her on the rigors and fears of the state level, Dukes listened.
"He prepared me for not to be let down if something bad does happen, because you'll always be able to come back and try again," said Dukes. "I think (this experience) is all going to be helpful sometime."
For the Basehor-Linwood program, progression was made as a team with the State qualification of two individuals (junior Dan Rundus passed up to compete in Wichita for a trip to the Grand National Forensics Tournament in New York City). Last season, the Bobcats failed to qualify an athlete to the state field..
"To miss a state meet and not get anyone there is not very much fun, in the end," said Brown, who saw 13 track meets at the state level as a coach with Bishop Miege. "To get a few qualify this year, that's a great step for us."
Rundus, who heaved a 141-3 throw in 4A regional discus competition at Tonganoxie on May 12, would have faced steep competition in Wichita. The top discus placer had a throw of 153-1.
Notes
4A regional champion Baldwin enjoyed much success over the weekend. The Bulldog boys celebrated their first ever State title, scoring 64 points.
Kaw Valley League school Lansing finished tied for fourth with 24 points.