Students 'say no to drugs' in district program
To heighten student awareness, some schools in the Basehor-Linwood School District recently participated in activities designed to deter drug and alcohol use.
During the week of Oct. 22 to 26, school district students participated in various ways to show support for Red Ribbon Week.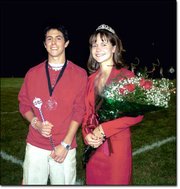 Most of the week students wore different outfits every day signifying their participation in the drug awareness week.
Some of the outfits included wearing sunglasses for "shade out drugs day" and wearing crazy socks for "sock it to drug day." Some students also signed school pledges to give to their parents vowing not to use drugs or alcohol.
The school counselors at Glenwood Ridge Elementary, Basehor Elementary and Linwood Elementary schools coordinated the awareness week. And while the week may not have a long-lasting effect on all students, GRE counselor Marilyn McGowan said it would help.
"We are hoping that they remember not use drugs when they get older and that they remember what they learned when they were young," she said.
As part of the week, school counselors also taught drug awareness classes showing some of the mental and physical dangers of using drugs.
At the end of the week, McGowan said students at GRE would hold hands in a circle around the school to show unity against using drugs.
"By doing this they are pledging not to ever do drugs," she said.
Red Ribbon Week was started in 1988 by the National Family Partnership in honor of a drug agent that was killed while undercover in Mexico.
To honor the fallen agent and his war against illegal narcotics, friends and family of the agent began wearing red satin ribbons.
From there, school district officials said the program has reached millions of students across the nation in hopes of educating students.
Initiating the program in the Basehor-Linwood School District has apparently gained approval by district parents as well as students.
McGowan said students have responded well to the program and parents have been happy with the results as well.