Linemen looking for attention
In football, the guys who score the touchdowns get the glory.
But most players and coaches admit it's the offensive and defensive lines that dictate the outcome of the game.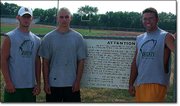 At Basehor-Linwood High School, this year's defensive line is looking to control not only the games, but also the entire season. The unit returns three full-time starters from last year in defensive ends Darren Marx, Ross McCoy and Derrick Busch, along with two other part-time starters in juniors Nick Pike and Corey Jones.
"Any time you have experience back on the line that's a huge advantage," BLHS coach Paul Brown said. "The games are won and lost up front."
Up front is often referred to as "the trenches," and Brown said whichever line controls that area usually comes out victorious. That's why he is such a fan of linemen and that's why he doesn't try to hide it from anybody.
"I stand right there in front of the whole team and tell them that linemen are my favorite people," Brown said. "Each player we have on our defensive line does something different and unique to make the sum total of our team better."
Entering the season as an experienced group is one area that stands above the individual talents the five have. McCoy said having experience and depth at the position should allow the linemen to accomplish what they want this season.
"That depth should help us a lot because we can rotate guys in and out, and it will keep us fresh," McCoy said. "I think we should be the best defense in the league and everyone will know it. We don't have any stupid guys this year. Everybody on that line has played before and is experienced and that's all it takes. They're going to notice us this year. People are going to notice us."
Why people will notice the Bobcat linemen this season remains to be seem. Marx said it will be because the group is a tough, no-nonsense group that knows how to play the game.
Marx said every BLHS defensive lineman can dish out the big hit, and more importantly, all of them like to do it.
To stick their necks in there and make a bone-crushing hit, Marx said it takes a little craziness and a little discipline.
"You have to be crazy and smart to be a good defensive lineman," he said. "You have to be crazy enough to bust through the guys up front and knock somebody on his back, and you have to be smart enough to know where you're supposed to be so you don't hurt the team."
Whether it's craziness or intelligence that's needed to play the position, Busch said each player has to have one common characteristic if he wants to play.
"You have to want to play hard all the time," Busch said. "You have to want to give it all you have and don't let up on any play."
Of the five, Busch is the quiet guy in the group. You'll never hear much hooting and hollering coming from his helmet, but Marx said just because he's quiet doesn't mean he won't knock your lights out.
As for the other four, Marx and McCoy are the most outgoing. They have started on the same defensive line together since middle school and neither are afraid to let someone know they got tagged.
Juniors Jones and Pike are two of the strongest players on the team. Marx said they do an excellent job of plugging the middle and allowing the ends to make plays.
Brown said all five defensive linemen will be key components of a defense he feels could be outstanding. Brown said if his feeling proves true, the Bobcats could win a lot of games this season.
"On defense we have a chance to be really good," he said. "And defense is what puts you in position to win ballgames. I see our defensive line being tenacious, experienced and shutting down the opponent enough times to get us the ball in good field position.
"The games are won and lost up front."