Graduation numbers decrease slightly
While the graduation rate for the Basehor-Linwood School District fell nearly two percentage points from last year, the school district is still above the state average, according to statistics recently released by the Kansas Department of Education.
The school district had an 88.5 percent graduation rate in 2000. In 2001, that figure dropped to 86.6 percent. The average graduation rate in Kansas for 2001 was 84.6 percent.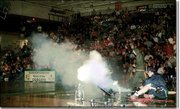 Basehor-Linwood School District Superintendent Cal Cormack said the figure wasn't indicative of the district's work.
Recent graduating classes at Basehor-Linwood High School have been smaller than normal, so one or two more students that don't graduate make a larger impact on statistics than they would at a larger school, he said.
"We would like to see 98 percent or better, and we expect to be there as we move ahead," Cormack said. "There could have been some variances in between classes. I don't consider that a trend.
"I think the teachers are doing a better job than ever. I think we're probably stronger as a district than ever. I believe our students are better prepared than ever."
The statistics also indicated that the dropout rate for the school district rose in 2001.
In 2000, the district's dropout rate was 2.8 percent. The dropout rate for 2001 was 4.7 percent, according to recent figures.
The state average dropout rate was 2.2 percent in 2001.
Cormack said the school district always tries to discourage students from dropping out of high school.
"There is a lot of effort that goes into working with those kids that want to dropout," he said. "If we can't deter them, we try to steer them to other educational opportunities like a (general equivalency degree or a vocational school) so they don't lock themselves out of the job market."
BLHS Principal Bill Hatfield said the higher dropout rate isn't a growing problem at the high school.
"We don't really have an exact rationale as to why that happened," he said. "I think one reason is that kids and parents are more aware of other educational opportunities than before."
Hatfield said the high school tries to stay in contact with students who have dropped out of school and tries to persuade them to enter another educational area.
"The one thing we do is counsel parents and kids on other opportunities," he said. "The main follow-up is done if they enter a vocational school or the charter school."
Hatfield said he wanted to get the rate down to zero.
"I feel that one student dropping out is too many," he said. "We want to work hard so that there isn't any of them."
And while the school district tries to improve upon the graduation and dropout rates, safety at school, it seems, is not an issue.
Recent figures indicated that student against student violence fell from a 2000 figure of 3.6 percent to 0.7 percent in 2001.
The 2001 figure is well below the state average of 1.62 percent.
Figures also showed that there were no reported cases of violence against teachers in the Basehor-Linwood School District in 2000 or 2001.
"We have attempted to provide a safe and more orderly school," Cormack said.
One factor in the low violence rate could be the new block class scheduling at BLHS, in which students have less time in the hallways and more time in the classroom, Cormack said.