Holy-Field tastes nectar of success
There are only so many bottles in a lifetime -- never drink from a bad one, or so reads the slogan on T-shirts offered to people helping pick grapes at Holy-Field Vineyard and Winery in Basehor this year.
The motto, while beneficial for its commercial value, is more than just a catchy phrase; the slogan also symbolizes the vineyard and winery's quality-over-quantity standards.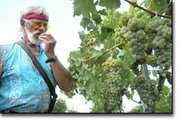 "A good wine is made out in the vineyard," said Les Meyer, part-owner of Holy-Field Vineyard and Winery, pointing to the careful attention each vine and grape located on the 14-acre vineyard receives each year.
"We go by and touch every one of them," said daughter and business partner, Michelle Meyer, "but we don't name them."
The father-daughter combination are the sole labor force for the winery, and have owned and operated the business for the past nine years. The lofty standards the Meyers set for their product is attained by working seven days a week in the fields, nurturing, enhancing and parenting their grapes.
Apparently, those standards have paid off.
In 2003, Holy-Field Vineyard and Winery received 50 winemaking awards including two double gold medals at a recent competition, and have been featured in the national wine magazine, Wine Trails Across America. The local business also made the top 10 list of fastest improving wineries in the Midwest, in the book, "The Wine Report."
Who needs the Nappa Valley with exposure like that?
"People have a preconceived notion you can't grow grapes in Kansas," said Les Meyer, who scoffs at the sentiment.
Even with all the due praise heaped upon them during the past year, the Meyers haven't taken time to rest on their laurels.
The vineyard will begin its annual Picking Season Aug. 24; the harvest, in which wine aficionados pay to help with the harvest, is sold out for the season.
"How in the hell do you get that many people who want to come out and pick grapes," Les Meyer said, amazed at how fast the vineyard and winery filled up this season. "It goes real fast when you have that many people helping you."
Although the Meyers could fit more people into their Picking Season events, like their production of grapes and wine, the two emphasize quantity over quality. If there were more people participating, people might not have as good a time, they said.
The picking season events are expected to draw 100 people to the vineyard and winery, beginning with the first event Aug. 24 and running "until we get done," Les Meyer said.
Holy-Field Vineyard and Winery is located at 18807 158th Street in Basehor and includes a wine production cellar, tasting room and gift shop. Prices ranges from $7.95 to $14.95 per bottle.
The vineyard and winery is open 11 a.m. to 6 p.m. Monday through Friday, 9:30 a.m. to 6 p.m. Saturdays and 12 to 6 p.m. on Sundays.