School district looking for improved student scores
Recent assessment scores indicated several telling factors for Basehor-Linwood School District educators.
Last week, the Kansas Department of Education released the assessment scores for all school districts. Those figures were used in determining which schools met the required annual yearly progress deemed necessary under the federal No Child Left Behind education bill.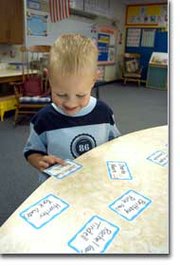 The assessment tests, administered last spring, tested student comprehension in four core subjects -- math, reading, science and social science.
All school district schools, except the Virtual Charter School (see related story, page 1A) met benchmarks for annual yearly progress.
Students at Glenwood Ridge and Linwood elementary schools even tested well enough to receive state standards of excellence, according to the department of education.
"In particular, elementary reading was especially strong," said Bill Hatfield, assistant superintendent in charge of administrating school district curriculum. "Math was also a strong area as well.
"We'll continue to work on the mathematics and reading curriculum at the secondary level (middle and high school)," Hatfield said.
In preparing for what some judge as rigorous standards mandated under the No Child Left Behind Act, the school district revised its science curriculum last year. A revision of the math curriculum took place two years ago, but could be up for another, Hatfield said.
"We think that it's time to look at the math curriculum again," Hatfield said. "We're going to need the best curriculum we can get our hands on."
The No Child Left Behind Act requires school districts to show continual progress each year; if schools fail to meet requirements, sanctions including the possible revocation of funding and accreditation could occur.
"It's going to take the help and support from everybody from students to parents to teachers," Hatfield said. "And we have to try and help students understand the importance of all testing."