Enrollment numbers increase
With some schools reaching levels near overcrowding and with 161 new students moving to homes within district boundaries, Basehor-Linwood School District officials caught a break this year.
As of this week, 102 students who attended school last year in Basehor-Linwood moved away from the district. The number is even higher when counting the four students who were expelled and the nine who dropped out of school.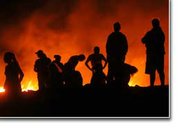 "We're lucky we had that many move out," Don Swartz, school district director of building operations, told school board members Monday night. "If we didn't, we'd be in trouble right now."
As of this week, enrollment numbers in Basehor-Linwood have increased by 45 more students than this time last year. The total enrollment is 2,101 students (roughly the population of Basehor) compared to 2,056 students last year.
The school district tracked the movement of those students moving away from the district and attained results for 78 of them. A breakdown is listed below.
Fifteen students moved out of state, not counting Missouri.
Ten moved to Missouri.
Seventeen moved elsewhere in the Kansas City metropolitan area.
Nine moved to Bonner Springs.
Nine moved to Tonganoxie.
Five are attending private school.
As for new student numbers, Swartz said the schools reaching capacity level are Basehor and Glenwood Ridge elementary schools and the combination middle/elementary school facility in Linwood.
The Glenwood Ridge building has a capacity of 307 students but added another 17 this year, placing the school's enrollment at 320 students. Thus far, teachers and students are making due with the slight overcrowding, school officials said.
At the combination facility in Linwood, the total enrollment, both middle and elementary students, is 462 students.
"Five hundred kids is the absolute most you can service in that building," Swartz said.
Basehor Elementary showed the largest increase, with 25 more students attending classes this year, and 11 more students are taking classes on-line, via the Internet at the Basehor-Linwood Virtual School.
Enrollment decreased at Basehor-Linwood High School and Linwood Elementary School.
"The safest school is the high school," Swartz said. "The high school has room for three to four hundred more kids.
Below is a breakdown of the new enrollment numbers, as submitted by the school district.
2003 2002 ¢ BES 390 365 ¢ GRE 320 303 ¢ LES 171 178 ¢ BLMS 291 283
BLHS 543 558
BLVS 361 350
School officials calculated enrollment numbers as of Sept. 22. The figures must be submitted to the Kansas State Department of Education by Oct. 6.
Enrollment numbers are used to determine school district funding: schools are funded at $3,860 per pupil. The state does not pay the per-pupil allocations for students who enroll after Sept. 22.