Principal takes helm at
GRE
Former reading specialist replaces Tom Sack at Glenwood Ridge Elementary School
The gymnasium at Glenwood Ridge Elementary School erupted in applause Thursday, Oct. 2 as students were told that Linda McFarlane, a familiar face, would become the school's next principal.
McFarlane, 55, a reading specialist at Glenwood Ridge for the last five years, was appointed to fill the principal's role at the school last week, Wednesday, Oct. 1.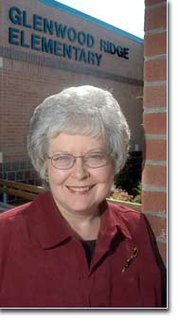 She replaces Tom Sack, a popular principal who resigned in September after he acknowledged that he failed to follow testing protocol during state assessment tests last spring.
The Glenwood Ridge students and community have embraced the new principal much as they did the old one.
"I can't begin to tell you how many hugs I got that day," said McFarlane, recalling the Thursday assembly. "It was undoubtedly the highlight of my career. (The students) reaffirmed my decision was the right one."
"I've gotten a lot of encouragement from Glenwood Ridge teachers, parents and people in the community," she added. "The support has been overwhelming."
Basehor-Linwood School Board members said the hiring is a good fit for the school and the district.
"The (school board) is extremely pleased that Linda McFarlane was named principal of Glenwood Ridge Elementary School," board president Kerry Mueller said. "It was the district's desire to fill the position internally, ifpossible. Linda is highly qualified for the position and is well respected by her peers, the faculty, students and parents. She has the board's full support."
McFarlane has more than 25 years experience in education; in addition to her work in Basehor-Linwood, she has taught in Great Bend as well Barton and Johnson county community colleges.
"It's a great challenge and I have a lot to learn but this has been so energizing," McFarlane said. "I believe we can take this school forward."
One of McFarlane's challenges will be righting the boat rocked by the fallout from Sack's resignation.
Upon learning of the testing improprieties at Glenwood Ridge, the state department of education invalidated test scores and listed the school as not meeting annual yearly progress. The progress standards are mandated by the federal education bill, the No Child Left Behind Act.
Possible sanctions could occur if standards aren't meant for two consecutive years.
McFarlane said elementary school teachers did an "outstanding job," before the assessment tests were taken and is confident teachers would do the same this year.
"I don't think we can just disregard everything that was done last year," the new principal said. "We're going to re-emphasize the Glenwood Ridge teachers. There is a huge amount of talent in this building.
"We're up to the challenge."
Glenwood Ridge has strong ties to the surrounding community. McFarlane, a resident of Glenwood Estates, a nearby subdivision, said her administration would seek to bolster those community ties.
"I'm a 90-second drive away," she said. "That's my neighborhood and this is a neighborhood school and that will not change."