Local man returns home from war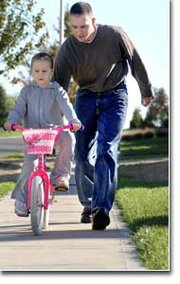 Tony Rider could care less whether the United States ever finds weapons of mass destruction in Iraq.
For Rider, a local man and a reserve platoon sergeant in the U.S. Marine Corps fresh from a tour in Iraq, the conflict isn't about that.
"What we're doing over there is right, I don't care what anybody says," said Rider. "That regime was evil."
After the politics, world opinion and public relations are scrubbed away, the war boils down, simply, to helping an oppressed people, he said. People who don't have running water and electricity; people who are threatened and assaulted and enslaved by their government, he said.
"They just want what anybody else wants, a chance," said Rider.
"Ninety percent of the Iraqi people want us there," he added. "They're good people. You could see how much they wanted to live and how much they wanted their freedom."
Rider, a Shawnee resident, is the owner of Mr. Goodcents Subs and Pastas shops in Bonner Springs and Kansas City, Kan. He is president of the Bonner Springs-Edwardsville Chamber of Commerce, and also a member of the Basehor Chamber.
Last week, he returned home from a seven-month stint in the Middle East, where he and his unit helped supply military installations and secure convoys into Iraq. This was his second tour in the Middle East: Rider also served in the Desert Storm operations in 1991.
Rider and his unit were trained as an anti-tank platoon but their orders changed when they arrived in March.
The roads Rider traveled through the Middle East brought images that were sometimes hard to swallow for the patriotic soldier. One in particular, a mural painted on a wall depicting a plane crashing into two skyscrapers, proved a stark reminder that he was indeed, in hostile territory.
And there were others as well. A statue of a man holding an AK-47 assault rifle for instance. Both images are the kind not easily forgotten and helped form Rider's opinion that stability needs to be brought to a hostile region where violence reigns over freedom.
"I hope we don't pull our forces out," he said. "We have to stay the course. If we don't stay and help them to become self sufficient it's going to be chaos again.
"When they are financially and physically able to run their government, then we should leave."
Almost as quickly as he was ensconced in the war, his departure was just as abrupt. Rider's orders in the Middle East were set for one year with an ever-looming possibility for an additional year.
News of coming home was surprising and old Uncle Sam couldn't have picked a better month for Rider and his family. On Oct. 9, Rider and his wife, Tracy, celebrated their 10-year anniversary. The husband and father of two daughters, Jordan, 6, and Ashton, 3, arrived back home Oct. 8.
Coming home also means Rider, a Baldwin native, will be able to celebrate this weekend's Maple Leaf Festival with his parents and the other family members coming in town.
"Getting home now is a blessing," Rider said. "Being away from your family and then getting to come home ahead of time feels good."
And don't expect to see Rider back at work running his two sandwich shops anytime soon. He said he plans to take some time off to be with his family and handle less stressful activities like taking his daughter on a field trip or teaching her to ride her bicycle without training wheels or mowing the lawn. A trip to Disneyland, promised by Rider to his children, isn't out of the question, either.
"I promised them we'd take them and they haven't forgotten," he said.
He'll return to the restaurants sometime in November. Or, maybe he'll wait, rest and return when he's ready. It's not war, there are no orders and decisions aren't based on life and death anymore, he said.
"A lot of it, for me, is rest and not to move too quickly," Rider said. "I just feel mentally, physically and emotionally drained. I need to take some time and become a civilian again."