Monument ready for display
On Sunday, Nov. 2 residents and officials will participate in the unveiling of a monument dedicated to Reuben and Ephraim Basehor, who founded the city 114 years ago in 1889.
The Basehor Historical Society will host the ceremony, scheduled to begin at 2:30 p.m. at the site of the future Historical Society Museum and Conference Center at the southwest corner of 158th Street.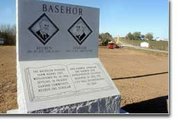 During the ceremony, historical society members will uncover the $10,000 monument featuring images of the Basehor brothers as well as an engraved history of the city. The monument stands five feet tall and weighs approximately four tons.
Historical society member Carla Crawford said members will thank those who helped make the monument a reality for the city.
"A number of people donated support and time to this project to help put this all together," Crawford said. "There are so many people, so many to mention, that we don't want to forget anyone."
The historical society obtained grants from private foundations for the monument and numerous local companies participated in helping erect the statue, Crawford said.
The following people are slated to participate in the Sunday event:
Bob Wiley, commander of the Basehor Veterans of Foreign Wars Post No. 11499, and Fred Box, Basehor VFW chaplain, will host introduction ceremonies.
Crystal Buck, a local woman, will sing the National Anthem.
Basehor mayor Joseph Scherer will give a keynote speech.
Gerald Cooper, historical society president, will recognize project workers and donors.
State Rep. Ray Cox, R-Bonner Springs, whose 39th District covers Basehor and Bonner Springs, will attend the ceremony.
Also slated for dedication on Sunday afternoon is a flagpole in honor of long-time Basehor residents Eugene and Darlene Theno. The couple's son, Melvin, will accept a plaque in honor of his parents and will participate in the flag-raising and dedication.
Originally, the monument was to be located in front of Basehor City Hall, but plans for that location fell through. The historical society hoped the monument's unveiling would coincide with the opening of the Museum and Conference Center; however, the completion of that project is undetermined.
Plans are continuing to complete the Museum and Conference Center at the site on 158th Street, land donated to the Historical Society by Basehor residents Ray and Ann Breuer.