Homecoming set for Friday night
The theme for this year's Basehor-Linwood High School Homecoming Parade is "Cruisin' with the Cats."
The parade will start at 5:30 p.m. Friday, Sept. 26. All entries must be lined up by 5 p.m., organizers said. Community/business floats are to line up in the circle drive and east parking lot of Holy Angels Church; large motor vehicles, walking units and horses line up in the Basehor Elementary School parking lot; and small motor vehicles and bicycles will line up in the Virtual Charter School parking lot. Dirt bikes will not be allowed in the parade this year, organizers said.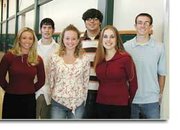 Winning entries will be posted on the high school marquee immediately after the parade.
Other pre-game activities this year will include the Homecoming Bonfire Thursday night and the Basehor-Linwood Booster Club Barbecue on Friday.
The bonfire will take place at 8:15 p.m. Thursday at the southwest corner of the practice fields west of the high school. Those attending the bonfire, which is open to the public, are asked to park in the student parking lot at the high school.
The barbecue will take place from 4 to 7 p.m. at the high school.
The queen will be crowned during halftime ceremonies at Friday night's football game against Santa Fe Trail High School. The game starts at 7 p.m.
Homecoming activities will conclude with the Homecoming Dance from 7 to 10 p.m. Saturday at the high school. Theme for this year's dance is "Hopelessly Devoted."