China impresses Lansing officials
After visiting China, Lansing insurance agent Dick Cameron said the world was shrinking and China was becoming a vital part of it.
Building a bridge to China, he said, is more important now more than ever to the United States.
Chris Aus, co-owner of Aus Construction Co., who also visited China on the same trip as Cameron, said it was vital to see the importance China will play on the global economic stage.
Photo Gallery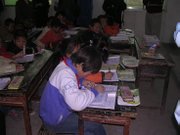 A tour of China
Assistant Superintendent Donna Hughes, Lansing High School principal Steve Dike, Lansing Community Foundation Fund members Chris Aus and Dick Cameron went on a 10-day tour of China with the ultimate goal of beginning a student exchange with a school in China.
"If we don't become friendly with China, we'll be sorry," Aus said.
The interest teachers from Lansing have shown in East Asian Studies prompted the Freeman Foundation to ask Lansing school district officials to join school district officials from the Greater Kansas City area on a 10-day tour of China cosponsored by the Freedom Foundation and the University of Kansas.
Donna Hughes, assistant superintendent of the Lansing school district and Steve Dike, principal of Lansing High School, represented the school district. Aus and Cameron were asked to go to China because of their involvement in the Lansing business community and familiarity with the area.
Aus said she was still in awe of the trip.
"It was a trip of a lifetime," she said. "Everybody was friendly and welcoming."
In some cities the Chinese treated the Lansing visitors like celebrities.
"All of the people came to see us," Aus said.
Many of the Chinese spoke English well, but in some smaller cities, she said their English skills were lacking.
"They were inquisitive about the American system and culture," Cameron said. "They asked us about what it was like being Americans and what we represented."
Aus said she learned more about the way the Chinese do business.
"Their commerce is amazing," she said. "It is a great opportunity to make money."
As for a potential student exchange program between Lansing and a high school in the Chinese state of Kaifeng, Aus is all in favor.
"This would be a step forward for Lansing," Aus said.
Hughes agrees that increasing ties with China is a wise investment for the Lansing community.
"It's time for us to get on board, or be left behind," Hughes said.