Drama club lobbies for new auditorium
Backstage in Lansing's school auditorium is dark and cramped. There are props - an old couch, some shoes - and a lighting board covered in carefully written notes and directions. There's also a taped-up sign that reads "Drama Till I Die."
Lansing High School drama club takes theater seriously.
"Drama's really important to me because that's what I want to pursue when I go to college," Elena Stephenson, a Lansing high school senior, said. "I want to major in theater."
She is not alone. She and fellow drama club member Ashley Kings both aspire to theater careers and said they thought Lansing's drama program was a top priority. They estimated five or six others in their graduating class plan to pursue theater professionally. And that's not counting the "billions of freshmen" who have given the drama club a shot of fresh blood, said Kings, a senior.
Both Kings and Stephenson will direct one-act plays this February. Auditions begin the second week in December, following the recently wrapped production of "Lost in Yonkers." Last year the club also produced student-directed one acts and two performances of "Tom Sawyer."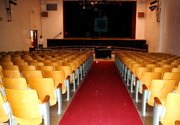 But their time at Lansing High School hasn't always afforded them similar opportunities. The two have had to work hard for their accomplishments.
"We've been through a lot our four years here," Stephenson said. "Our sophomore year we didn't have a sponsor, we didn't have a club for half of it. It took a lot of sitting down, talking to the school board, talking to Mr. Dike, to convince them that we really wanted this, that we were serious."
In Stephenson's junior year, speech and forensics teacher Ken Church took over sponsorship and re-launched the club with the production of "Tom Sawyer," which played to packed houses both performances.
Interest in drama has continued to grow, Kings said.
What hasn't continued to grow are the facilities available to the budding thespians.
"We had a rep from Highland College visit our play," Stephenson said. "He said we had a lot of talent in all aspects - technical, acting, costumes - and it was too bad our resources didn't match up to the talent."
The drama club performs most of its plays in the Intermediate School auditorium, a room plagued by limited, uncomfortable seating, a tiny backstage area and electrical problems, club sponsor Church said.
"If you go in and you're used to a fancy, nice high school auditorium, which I was before I came here, it's kind of shocking," Church said.
The auditorium is too small to accommodate large set pieces and can be unsafe as well as inconvenient for the backstage crew.
"You have this small board [of lights] and all of a sudden in the middle of the play, the lights would start going off because you had overextended the electrical capacity in the building," Church said. "So they always had on the dimmers these pieces of tape showing how far you could push the dimmers up so that you wouldn't start knocking breakers off."
Tanner Couvelha, a Lansing high senior, is the main lighting and technical operator for the drama club. He finds working on shows in the auditorium a challenge.
"It's a struggle to get with the facilities," Couvelha said. "It's a fairly low stage so we can't build big, elaborate sets the way a lot of modern schools are doing. We're quite limited with lighting - it's been kind of push and shove getting lights in there.
"Electrical power, well, we've been told by maintenance we're pretty much maxed out in there, so we can't run a whole lot of lights in there. And (in) a lot of plays, like 'Tom Sawyer,' lights are key to the set."
Couvelha said he could probably get about 36 lights in the auditorium total, though that was assuming electrical problems weren't an issue. At area high schools with larger auditoriums, Couvelha said, there could be as many as 120 lights, all computer-controlled from a sound box at the back of an auditorium.
"When we're in our auditorium we have to sit in the back, and we're limited to just our board. Our sound guys have to whisper real quietly so they don't disturb the audience," Couvelha said.
"It is pretty amazing that they are able to do so well," Church said of the drama club.
But he said he thought a new auditorium, which will be part of the resolution the Lansing School Board plans to vote on at its Dec. 13 meeting, would do a great deal in helping students go further in showcasing their skills.