Schoolchildren in Lansing got to start Thanksgiving vacation a day early last week after Mother Nature dropped about 6 inches of snow on the city.
Photo Gallery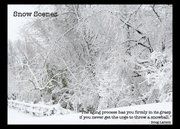 Snow Scenes
The unexpected snowfall meant no school, sledding and the winter tradition of shoveling the driveway.
Officials called off school Nov. 24 because of the accumulation.
The early-season surprise sent children to neighborhood hills for a day of sledding. They also took to their front yards for some snowman-building and sidewalk-clearing.
John Young, the city's Public Works Director, said crews had all of the city's streets cleared by 2 p.m.
"We had very little trouble, and it took very little material to melt away the snow," Young said.
The snowfall wasn't without its difficulties. The weight of the snow brought down a power line at Eisenhower Road and Pebble Beach Drive, Leavenworth Fire District No. 1 reported.
The snow also weighed heavy on tree limbs across the city.
Warmer, sunny weather on Thanksgiving Day melted away a lot of the snow, and by the weekend most all of it was gone.
A dusting overnight Monday and during much of the day Tuesday provided a new ground cover. But, alas, the accumulation wasn't enough for officials to call off school again.