KSU

fan pays the city's bills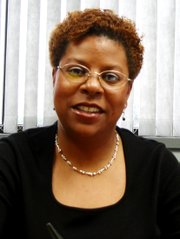 A Jayhawk fan might get a bit of ribbing meeting Georgia Brown at Lansing City Hall. But it's all in good fun.
The Kansas State University graduate loves her alma mater and her work.
A KSU business administration grad, Brown is an accountant for Lansing and says "it's great working for the city. I intend to retire from the city."
In her job, Brown pays the city's bills. And she also gets to meet a lot of Lansing residents who come in to city hall, a part of the job she says she enjoys. Brown also likes seeing how Lansing is growing. "I see nothing but positive things here. It's getting bigger and better," she said. And she lauds the Lansing schools and the activities and sports programs available to her two children. Simply put, she says, she feels at home in Lansing. "It's wonderful."
Name:Georgia Brown
Address: 203 Connie St.
Occupation: Accountant, city of Lansing
Graduate of: Kansas State University, business administration
Family: Son, Lincoln Jr., 10; daughter, Sierra, 5
How long have you lived in Lansing and what brought you here? Born and raised in the area, moved back to Lansing in June 2000. Mother and brother are long-time Lansing residents.
What do you like most about Lansing? I like the small-town living but close enough to a big metro area like Kansas City. The people around here are wonderful. Lansing has an excellent school system.
What do you do to relax? Not much time for that with two young children, but I like to watch TV (I enjoy sports) and listen to music.
What would surprise people about you? I love football.
What's the best advice you ever received? Treat people the way you would want to be treated.
What organizations or clubs do you belong to? Personnel committee, city of Lansing, Government Finance Officers Association.