Grape's goal: state championship
Look no farther than Kyle Grape's left shoulder blade to find out just how much wrestling means to the Lansing High sophomore.
There, on that chiseled shoulder in red and blue ink, is a tattoo of the Kansas Wrestling logo - a permanent symbol of the sport that has found a permanent home in Grape's heart.
The tattoo is telling of who Grape is. He isn't just content to compete on the mat, he constantly strives to beat the best and be the best. It's a mentality that helped Grape earn a fourth-place finish at state as a freshman in the 130-pound weight class, and it's driving him again as he prepares for another run at a state championship.
"Kyle was just one that, from the first of the season, he started stepping up and making things happen," LHS wrestling coach Ron Averill said. "From the very first tournament he got himself up into the fire."
Neither Grape nor Averill was surprised by the instant success Grape had as a freshman, and they credit the training he received in the Slammers wrestling club for preparing him for the varsity level.
From up-and-coming freshman sensations to well-seasoned seniors with vast state tournament experience, Grape beat almost everyone he faced along the way to posting a formidable 33-4 record. Meanwhile, he spent almost the entire season ranked in the top five in his weight class.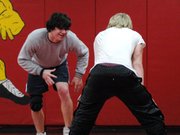 "He started beating quality kids right off the bat," Averill said. "And it wasn't like he was totally dominant over them, but he was finding a way to win.
"Champions find a way to win, and it seemed like every time he got into a situation where it was a critical moment, when it was high-level competition and championship matches, he was able to find a way to win. When it came to the higher competition, he was embracing the moment and he was willing to take a chance to and try to make it happen."
In fact, only one match really haunts Grape from last season where he wonders what might have been if things had happened just a little bit different.
"I felt like last year I did really good," Grape said. "It was going really well. Just that last match at state, that third-place match : I don't really know what happened."
What happened was Grape was pinned by Ulysses sophomore A.J. Heckel in just 42 seconds - Grape's shortest outing of the year. It was a stunning conclusion to what was a sensantional debut season by all accounts.
"It gives me something to look forward to this year," Grape said. "My goal is to do better."
Averill said Grape had been backing up his words with a diligent work ethic.
"His goal was to be a state champ as a freshman, and he's returning with that same goal," Averill said. "It's been more like a business-as-usual for him. He doesn't have a goal to be a state champ one year and that's it. He wants to be a multiple-time state champion. To do that it is going to take every day, in and out, not just in the practice room, but in the classroom and everywhere else.
"That's why I'm so encouraged by him. He's trying to make sure he does the right things in the classroom and everywhere else to enable the doors to be open for him later."
The Lions open their varsity season at 9 a.m. Saturday at the Spring Hill Tournament. That's where Grape will begin the long road back to Wichita, where the state meet will be held on Feb. 25-26.
Grape said it was important for him and his teammates to perform well this weekend and start their season on the right note as they begin the journey back to state.
"It's pretty big," Grape said of the Spring Hill meet. "Everyone knows where we were last year when we came in. We weren't supposed to have as good of a team as before, and we all ended up doing so much better. If we get started on the right foot again, it'll help our team make a real jump to the next level."