Lansing resident takes over Guard command
Each weekday, John Davoren drives from his home in Lansing to Fort Leavenworth, where he works in a civilian job on the Army base.
But each weekend, he sheds his civilian life for one that puts him in charge of the largest number of Army National Guard battalions in Kansas.
Davoren, 51, is the new commander of the 69th Troop Command of the Kansas Army National Guard. He took over the reins in a change of command ceremony last month.
"It's pretty significant to be selected as a commander," Davoren said. "And then to be selected as the troop commander for Kansas, which has the most battalions of any of the commands out there :"
As troop commander, Davoren is responsible for setting major events and major goals of the command. He has to make sure his units are trained and that they've completed all the required simulation exercises.
In his civilian job - he's branch chief for the Standardization, Analysis, and Integration Branch under the US Army Force Management Support Agency - he works about 45 hours a week. He devotes about 60 hours a month to his Guard duties. So it's not surprising that Davoren hasn't had much time to spend relaxing.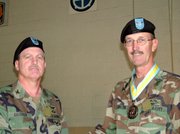 "I didn't get to go fishing at all this year," Davoren said, shaking his head.
Davoren, a 13-year Lansing resident, graduated from Basehor High School in 1971 and hasn't had much down time since. He graduated in 1976 with a Bachelor of Science degree in business from the University of Kansas and he spent the next seven years on active duty, managing to earn both a Master of Arts degree in personnel management and a Master of Science degree in strategic studies during that time.
He and his wife of 28 years, Debra, met in Lawrence when Davoren was a KU student. Debra Davoren went with her husband to Kentucky, Alabama, Hawaii and, finally, Kansas again.
"I'd spent seven years on active duty, and my wife and I wanted to return to this area. Our families are located nearby," Davoren said.
However, he added, as much as he and his wife enjoy living in their home state, near their families, "it's hard to beat living in Hawaii. It was a lot of fun living there."
This is the first time Davoren has been more than 65 miles away from his unit assignment the headquarters is in Wichita, which is about 200 miles away.
But Davoren is content to remain a resident of Lansing.
"It's still relatively small, it's easy to get around," Davoren said of the city. "I enjoy living here."
When the younger of his two children, Kyle, was in grade school, Davoren said he coached the soccer team and helped out with the baseball team. He's also a member of Lansing's Veterans of Foreign Wars post.
Since gaining the position of troop commander Davoren hasn't had as much time as he'd like for community involvement. His time is spent instead on readying his troops for mobilization.
"Last weekend I went down to Fort Riley to look at some of the training my deployed units are doing," Davoren said. "I was pretty impressed."