Lansing, Leavenworth grads win
PRIDE

awards for leadership, service
Accolades continue to come in for Crystal Buck and Tiffany Zimmerman, two area high school graduates who have gained statewide recognition for their volunteer efforts.
Last month, Kansas PRIDE honored the two, each of whom received a Kansas State PRIDE Youth Award. Buck, a Lansing High School graduate, won an award for leadership; Zimmerman, a Leavenworth High School graduate, was recognized for community service.
Local government officials plan to recognize the girls this month.
Though no date has been set, Lansing Mayor Kenneth Bernard and Leavenworth County Commissioner Joe Daniels also plan to recognize the two, city clerk Karen Logan said.
From 2000-2002, Buck worked as a volunteer to help children from inner-city areas and from the Wyandotte County Juvenile Correctional Facility to earn their highschool-equivalent diplomas. She taught English and math. The program, then called Steps, was run by one of Buck's friends, Angela Jobe, and Jobe's mother at Stony Point Christian Church in Kansas City, Kan.
Last year, Zimmerman, who was then working at Leavenworth Bridal Wreath, was looking for ways to get her club, Students Against Destructive Decisions, more active in the community.
When she heard about a 2-year-old girl whose family had been killed in a car crash, Zimmerman put on a fashion show modeling clothing from the bridal store. Proceeds from ticket sales were donated to the orphaned child.
The event raised about $800, Zimmerman said.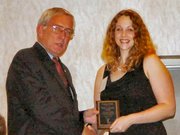 Both are now in their first year of college. Buck attends University of Missouri-Kansas City and is studying opera. Zimmerman plans to double major in computer science and business and attends Missouri Western State College in St. Joseph.
The women's deeds came to light in their applications for the Lansing Lions Club's Robert L. Ames Scholarship. Neither won, but their accomplishments caught the eye of Lansing Lions Club member John Bennett, who nominated the women for the Kansas PRIDE program awards.