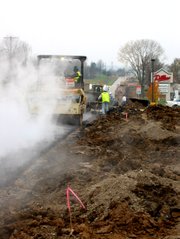 Work has begun on a $3.9 million project to widen a one-mile stretch of Eisenhower Road west to 155th Street.
Bob Patzwald, deputy director in the Leavenworth Public Works Department, said the project ultimately would widen the stretch of Eisenhower to a four-lane concrete street with curbs and gutters. It also will include a new stoplight at Eisenhower and Shrine Park, which turns into De Soto Road in Lansing.
Patzwald said the project was being completed in phases. The first phase, which is now under way, is to widen the street to the north. In spring, he said, workers will widen the street to the south.
The scheduled completion date is fall 2005, Patzwald said. The project is a joint effort by the Kansas Department of Transportation, city of Leavenworth and Leavenworth County.