Student exchange with China lacks only a funding source
A student exchange program that would bring Chinese students to Lansing and vice versa is a step closer to reality.
Donna Hughes, assistant superintendent of the Lansing school district, and Steve Dike, Lansing High School principal, returned this month from a Kansas University-sponsored 10-day tour of China, where they continued work toward starting an exchange program.
"We agreed to agree to do an exchange if we can get the funding to come through," Dike said.
He said once the school district confirmed it could financially support the exchange program, the two sides would complete the agreement.
Lansing officials expect the exchange to bring eight to 10 Chinese students, two teachers and administrators to Lansing for two weeks next fall. Lansing students would go to China for a two-week period after that, said Dick Cameron, a Lansing insurance agent who also was on the tour.
The lack of funding is all that would prevent the exchange program from happening. The Freeman Foundation, which co-sponsored the trip to China, has said it would fund the project for two years; after that, the Lansing district would need to pick up 50 percent of the costs.
Photo Gallery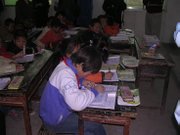 A tour of China
Assistant Superintendent Donna Hughes, Lansing High School principal Steve Dike, Lansing Community Foundation Fund members Chris Aus and Dick Cameron went on a 10-day tour of China with the ultimate goal of beginning a student exchange with a school in China.
Hughes said that the Lansing Educational Foundation fund could play an important role in this project. She also said that having Aus and Cameron, both members of the foundation, on the trip to China was the first step in trying to gain support of the Lansing business community.
"It is good for young people to have contact with people across the world," Cameron said.
During the trip, Cameron said he learned the Chinese educational system fostered more competitiveness among students. In an exchange program, he said, Chinese students would help Lansing students appreciate the value of their education, he said.
"They know if they don't do well enough in school, another student will take their place," Cameron's said.
School is only compulsory until the ninth grade for students in China. After that, students must take a test to qualify to go to public schools. If they don't score high enough, the only way they can continue their education is if their family sends them to private school, a privilege most families cannot afford.
Lansing students, he said, might help their Chinese counterparts encourage a more creative approach to learning. And an exchange could have altruistic effects, too.
"The world might be a better place if we take a step to reach out to people in other cultures," Cameron said.
Chris Aus, Dick Cameron and Steve Dike contributed photos to this gallery.