Wayne's world
Leavenworth grad Simien glad he stayed at
KU
All that hard work as a young lad in Leavenworth has paid off for Kansas University senior power forward Wayne Simien.
The 6-foot-9, 255-pounder who starts at power forward for the second-ranked team in the country, recently this preseason received one of the greatest honors available to a college player - Associated Press Preseason All-American.
Simien, who averaged 17.8 points and 9.3 boards a year ago for the 24-9 Jayhawks and is also a leading candidate to win the Wooden Award and Naismith Award, was joined on the AP team by Wake Forest's Chris Paul, North Carolina State's Julius Hodge, Mississippi State's Lawrence Roberts and Syracuse's Hakim Warrick.
Not bad for a youngster from the sparsely populated state of Kansas.
"That's pretty big time, especially for a kid coming from Leavenworth," said Simien, proud of his roots as an all-stater under coach Larry Hogan at Leavenworth High.
"But being in Kansas, having an opportunity to play at such a great level competitively and play with such a great group of guys under a great coach ... that's definitely what got me there."
Simien was named third team All-America last postseason. This year the sky apparently is the limit.
"To be considered one of the top five in all of college basketball, it's a great honor," Simien said, thanking, "my teammates, my coaches. Basketball is a team sport. Without these guys I'd probably just be another player."
He is not just another player.
Simien, who is a team leader and a solid-as-a-rock person who would rather spend an evening at his church than the local club scene, is one special player.
"I've never had as mature a player, that was such a good player," KU coach Bill Self gushed. "We've had some mature guys, but Wayne is at total peace with who he is. He's a guy that wakes up every morning and doesn't feel he has to impress anybody, just go be Wayne. He feels everything will take care of itself. Preseason awards mean little to him," Self added. "He's a very mature guy who almost seems too good to be true."
Self could talk for hours about the big guy.
"Even my wife says, 'Gosh almighty, does Wayne ever have a bad day? Is he ever not polite? Does he ever not open the door for somebody, ever not say thank you? Ever be late? Ever miss class? Does he ever do anything that is negative?' The answer of course is yes but we don't know about it. He's a solid guy."
His teammates agree.
"Wayne never gets overly excited and never overly down," senior Michael Lee said. "He's about as steady as they come and I mean that in a positive way. There's nothing average about that guy. When he has a bad day, and we all do, he just works through it without letting it bring him down or those around him."
The good news for KU fans is Simien hasn't rested on last year's laurels.
"I can honestly say I think he's our most improved player," Self said of Simien who worked on his outside shot at various camps like the Nike camp and Jordan camp last summer. "Hopefully he'll continue to build off of what he's already done."
Simien is expected to drift outside some this year as well as dunking and jump hooking inside the paint.
"It's something I've worked on," Simien said of outside shooting. "Coach is giving me different opportunities. He wants me to look for it a lot more. Coach gives me the green light ... I'll put it up."
Simien did not only work on his shooting last summer, he worked on his body. He's more toned than ever before.
"It's the best I've ever felt," Simien said. I worked hard in the summer. My body feels great. My mind feels great."
His workouts were not designed only to avoid an injury-free senior season. Simien shrugs off talk about those who say he's injury prone.
"The only year I feel I was injured was my sophomore year," said Simien, who missed the first six games his freshman year because of knee surgery and 22 games his sophomore season because of a shoulder dislocation.
He missed only one game last season and could have played in that game if necessary because his groin woes bothering more at practice than in actual games.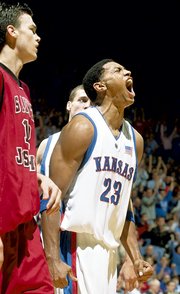 "The type of schedule we play, you'll be banged up some," Simien said. "I had some bruises. I played hard when I was out there. I feel great. I expect to have an injury free year just like every player expects to have an injury free year."
And he hopes to have a mighty successful year.
First for the team.
"Being there before, you always want to set the bar high. Anything short of finishing with a win in Saint Louis would be a bust," he said.
Secondly for himself. "Hopefully I'll try to carry this over to the rest of the season. Like any preseason award it doesn't mean much. Hopefully with the success of the team I'll be able to continue to keep that title the rest of the year."
And finally for the people of this state, including his much beloved hometown.
"I love this school and state," he said. "Before I came to play, Kansas basketball was the standard. As a young kid coming up playing basketball, this was it and you hoped to be a part of the legacy.
"I feel a connection (to the people). I think maybe the hometown thing has still got people drawn to me. I've had a lot of people showing me love and patting me on the back, encouraging me, thanking me for staying one final year," Simien said. "Hopefully I have something to show for it when I leave."