Prisoners, community combine efforts in bicycle giveaway
A holiday tradition that began in Lansing continues to grow, thanks to large group that includes prisoners at Lansing Correctional Facility, Lansing police officers, students at Lansing High School and others from around the area.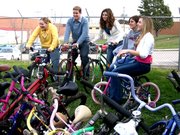 Every Christmas for the past 14 year, inmates at the Lansing Correctional Facility have given refurbished bicycles to agencies for distribution to financially disadvantaged children.
The bicycle-refurbishing program at the prison began small, with fewer than eight bikes in its first year, but has grown to an area-wide event with more than 400 bikes going to needy children.
On Thursday in ceremonies at the Lansing Community Center, bikes were given to representatives of 27 agencies from as far away as Topeka for distribution in their communities.
The Lansing Correctional Facility's Christmas Bike Giveaway program began in 1999.
"It was very small at first," Warden David McKune said. "It's just gotten big."
City Administrator Mike Smith was part of the original bike giveaway team.
"About '89-'90 we started getting three or four bikes and giving them out to Lansing. Then the prison warden became involved," Smith said. "And then the last five years it's just been:" Smith gestured to indicate massive growth beyond the ability of words to illustrate.
When Smith was police chief, the Lansing Police Department began the program by using confiscated and found bikes that had become department property.
Locally, residents, including many Lansing High School students, collect unwanted bicycles from community members and turn them over to the Lansing Correctional Facility's workshop.
The high school's Leadership Council, in fact, turned over another 76 bikes on Wednesday that it has been collecting for refurbishing.
That workshop has grown from a small basement to the bottom halves of two buildings. The bikes used for parts are now stacked as high as the buildings in which the inmates work drive past the prison on Kansas Highway 5 and there's an enormous pile of bikes. Every color, it seems, for every age and every style.
Kansas groups tell program officials how many children they plan to give bikes and how old the kids are.
Lansing children will receive six of the bikes on Dec. 18 through the Mayor's Christmas Fund. Logan said they were able to get several popular bikes, like Mongoose bikes, to distribute.
"We did get some neat bikes this year," Logan said. "The kids that we're giving them to ought to like them."
What was a 25-bike operation in 1999, just five years ago, has grown to more than 450 bikes, McKune said.
"All the staff is just so excited about it," McKune said. The warden said there was a core group of a dozen inmates who worked on the program regularly and then several other men who came and went periodically.
The program giveaway is held twice a year, once in June, once in December. In June around 200 were given away, McKune said.
McKune doesn't think that growth will stop.
"The biggest program we have now is finding the space," McKune laughed. "We've got the time, we've got the desire, we've got the supplies, we've got the support."