Cheers and tears
Seventh-grade girls perfect; eighth-graders fall in finale
Heading into their season finales, the Lansing Middle School seventh- and eighth-grade girls' basketball teams both were aiming at undefeated seasons.
After Saturday's championship games at the LMS Tournament, however, only one squad was left smiling. The seventh-grade girls rallied and defeated Clark, 27-25, in overtime and finished the season 12-0. The eighth-grade girls dropped a 37-30 decision to Perry-Lecompton and closed out the season with an 11-1 record.
The seventh-grade girls controlled the first half and took a 9-6 lead into halftime. Clark went on an 11-7 run in the third quarter and eventually built a 19-16 lead before Lansing rallied. A steal and two buckets by Allison Dillon gave LMS a 21-19 lead with 30 seconds left, but Clark's Sara Loeza drained a three-pointer that gave CMS a one-point lead.
Clark's coach was whistled for a technical foul with no time left on the clock. Lansing's Rachel Milnark then stepped to the free throw line and tied the game, forcing overtime.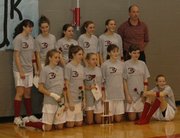 A quick bucket by Milnark and a free throw by Lisa Angello helped LMS assert control, and they never looked back.
Milnark led all scorers with 15 points, and Dillon added four.
"Any time you go undefeated it's special," LMS seventh-grade coach Terry Cornett said. "I knew I had some athletes on this team, but I didn't know if they had, right here in the heart, what it takes. But they've done it all year.
"These girls just come to play every game, and they're good kids."
As for the eighth-graders, there was no victory celebration after a late lead slipped away and they were handed their only defeat of the season.
The Lions were sizzling in the opening minutes as Natalie Loreti sank a 16-footer and a three-pointer and Brittney Lang drilled a trey. The hot hands continued in the second quarter as LMS turned a 16-all game into a five-point lead on a jumper by Lang and a three-pointer by Keasla Hundley.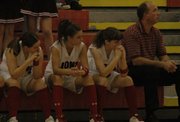 Brooke Didde drilled a three-pointer just 32 seconds into the third quarter, but a six-minute scoring drought followed and Lansing's eight-point lead disappeared.
"About the third quarter we started playing not to lose rather than to win," eighth-grade coach Keith Andrews said. "We started getting tentative, we started over-thinking instead of just playing. Perry was more aggressive, more physical, and I think they wanted it a little bit more."
Lang's layup with 5:11 left in the game ended the Lions' scoreless stretch and put LMS ahead, 26-24, but Perry closed the game on a 13-4 run.
Loreti led the Lions with nine points, Lang added seven and Didde had five.
"It would've been neat to go undefeated, 12-0, for both seventh- and eighth-grade, but 11-1 is still good," Andrews said. "We've got a great foundation for the future. This is two good groups of kids coming through."