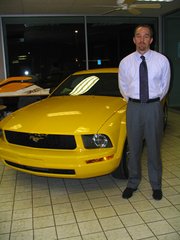 After his days at the University of Kansas, Derek Zeck traveled around the country to coach basketball, making frequent moves comparable to being in the military.
His coaching career began at his alma mater, Leavenworth High School, and included stints as a college coach across the country. He was an assistant basketball coach at Texas-San Antonio, Nebraska-Omaha and Butler County Community College before he left his position as the head basketball coach at the University of Southern Idaho to come back to work for his family's business, Rusty Eck Ford Lincoln Mercury.
"When you are younger you want to get away, but when you get older and have a family, you want to come home and be close to your family," Zeck, who is the new car sales manager and general manager for Rusty Eck Ford Lincoln Mercury, said.
He and his brother are the third generation of Zecks at Rusty Eck. His grandfather, Ol' Dan Zeck, is a sales representative; his father has worked at Rusty Eck for more than 20 years; and his brother, Dustin, is manager of used car sales.
Their longtime relationship to the Lansing community is one reason the Zeck family and the Rusty Eck dealership find satisfaction in supporting the community. This fall, the business donated $500 to the Lansing youth football league and provided trucks for the Lansing High School Girls basketball team to pose with for their annual poster. It also loans cars to community members for parades throughout the year.
Zeck said he hoped to help raise money for better facilities with the Lansing Education Foundation Fund.
Name: Derek Zeck
Address: 1401 Rock Creek Drive
Occupation: General manager, Rusty Eck Ford Lincoln Mercury
Graduate of: Leaven-worth High School (1989); University of Kansas (1993)
Family: Wife, Ali; sons Alec, 12, and Drew, 3; daughter, Emma, 8
How long have you lived in the area: Grew up in Leavenworth, moved away after college and have been back in the area for three years
What do you like most about Lansing and what brought you here? I grew up in this area. To work in the family business and be close to my family is what brought me home.
What do you do to relax? Golf, water ski, snow ski, run, workout, read, spend time with my family.
What would surprise people about you? This is a tough question to answer because with me, what you see is what you get.
What's the best advice you've ever received? Don't let your biggest strength also be your biggest weakness.
What organizations or clubs do you belong to? Lansing Educational Foundation.