Events kick off holiday season
Despite a steady rainfall, children lit the way to the 18th annual Mayor's Christmas Tree Lighting this week at City Hall.
Photo Gallery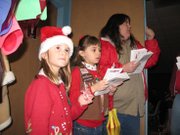 Mayor's Christmas Tree Lighting 2004
Scenes from the 2004 Mayor's Christmas Tree Lighting ceremony.
"I've done snow; I've done cold; I've done warm; but I've never done rain," Lansing Mayor Kenneth Bernard said as he greeted the crowd of more than 100 on Sunday at the Lansing Community Center in the basement of City Hall.
Before the Mayor's Christmas Tree Lighting, about 30 children made lanterns at Lansing High School as a part of Children Light the Way parade, an event in its second year. The children paraded through the crowd with their lanterns to open the Mayor's Christmas Tree Lighting program.
Lansing and neighboring communities united for a program before they went outdoors to watch Bernard light the tree outside. Tonganoxie Mayor David Taylor and Leavenworth Mayor Brian Grittmann were among the area guests who came to wish Lansing happy holidays.
Lansing chapters of Kiwanis and Lansing Lions club teamed up to sponsor the evening's events. Between the two clubs, they donated more than $300 to the Mayor's Christmas Tree Fund. Lansing PRIDE collected gifts for the Angel Tree, which provides Christmas gifts to those in the community who are in need.
"This kicks off the Christmas season for me," PRIDE member John Bennett said after members of the community brought up canned goods and donations of money.
The lighting ceremony was a way for the Lansing to community to showcase its talents, said Shelly Gowdy, president of Lansing school board, as she addressed the audience.
Lansing High School's Sound Spectrum choir did a performance that included jazzed-up versions of "Rudolph the Red-Nosed Reindeer" and "O Little Town of Bethlehem." They also entertained gatherers as mist fell while Bernard flipped the switch to the lights outside of the City Hall.
After the lighting ceremony, Le Petit Ensemble of Recorders played Christmas songs while Lions club served refreshments in the community center.