LHS

wrestlers steady at Spring Hill
Eudora Tournament will be next major test for Lions
Lansing High wrestling coach Ron Averill wasn't satisfied with his squad's second-place finish in its season-opening tournament last Saturday at Spring Hill, but he said it was a good start.
"I'm pleased with where we're at, but I'm not really satisfied," he said. "We didn't have anybody that wrestled a perfect match, but we had a few guys who tried real hard and came real close."
Eight of Lansing's 13 varsity wrestlers placed in the top three in their respective weight classes at Spring Hill, but none were more impressive than juniors Sean Flynn and Stewart Jones. Flynn went 2-0 and won the 130-pound title, while Jones posted a 3-0 record and placed first at 135 pounds.
"I'm pretty satisfied with the way I started," said Jones, a state-qualifier from a year ago. "I'd like to be a lot better on top and stuff, but overall it was pretty good."
Sophomore Kyle Buehler placed second at 125 pounds, and sophomore Kyle Grape (140), juniors Ryan Civils (189) and Logan Ryan (215) also garnered runner-up finishes.
Freshman Nick Flynn (112) and junior Jordan Pratt (160) collected third-place honors.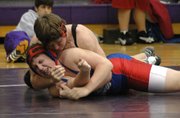 Averill said he was most pleased with the efforts of Pratt and Ryan who, despite not winning individual titles, made the most progress Saturday.
"Some of our biggest performances came from guys who weren't in the finals, especially when I'm looking at Jordan Pratt and Logan Ryan," Averill said. "Jordan was third and Logan was second. Neither one of those guys have found themselves in those positions in the past. Logan had some extensive varsity experience, but he's matured a lot as a competitor. The same thing holds true for Jordan."
Averill said his squad's non-medalists also came up big for the Lions. Specifically, guys like sophomore Casey Caton and juniors Steve Lillard and John Edmonds. Each posted 1-2 records on the day, but those individual wins were huge factors in the final team standings. St. Thomas Aquinas easily won the team title with 266 points, but Lansing finished second with 145.5 points, just six ahead of third-place Spring Hill.
"We had some guys that won just one match, but those points absolutely could have been the difference, even if it was just one point, could have been the difference between second and third place," Averill said.
The Lions next will compete Friday and Saturday at the Eudora Tournament. Aquinas and Spring Hill will be at Eudora, but perennial power Baldwin also will join the field.