New band director sets high standards for
LHS

,

LMS
Deb Steiner is hard to catch up with.
Her schedule as the band director for both Lansing High and Middle Schools means she's on the go all day. A dedicated trumpet player, Steiner also plays for Midwest Winds. She plans competitive band trips and pushes her students to do new and challenging things every year. And in the future? She has big plans.
Hers is a personality that doesn't allow for idling. It took a couple of weeks to get time to set up an interview, and in the end, Steiner agreed to stay after school on a Friday afternoon.
The band room was still busy at the end of the day; students were storing their instruments, packing up music and approaching Steiner to ask last-minute, before-weekend questions.
"I see 347 kids every day," Steiner said as she closed the door to her small office off the middle school band room. She didn't get to talk for long before there was a knock at the door. Another student with questions. Friday afternoon and Steiner is still on duty.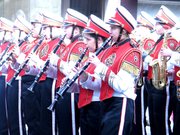 Her teaching day begins with a bang first hour at the high school, where she works with the 98-member marching band outside well into November.
"We've done some different things with the marching band, some different techniques they hadn't done before," Steiner said of her first year teaching in Lansing. "I had the band marching sideways and keeping their bodies face-forward. We marched to a ballad, we did special effects, like we went down on a knee. Stuff they had never done before.
"Those kids were amazing, they picked right up on it. I asked them to do a bunch of different stuff, and they were flawless at it."
Steiner's students were equally complimentary of her.
"She's really listened to us and what we've said, the things we've wanted to do," Kyle Harriss, a senior French horn player, said of Steiner. "I think at first everyone was kind of skeptical and kind of on edge, like, 'Oh, it's somebody new, what are we going to do? Is she going to make all sorts of changes?' But it's been really nice."
At the middle school, Steiner has begun making changes by initiating a mandatory system of warm-ups.
"I think the sixth-grade band will be really rocking by the time they get (to high school)," Micah White, a senior trumpet player, said.
That's what Steiner is aiming for with her new regimen.
"This first year I'm trying to keep things at a fast pace and get them going on an even keel so I can get an understanding of where the kids are coming from, and they can get an understanding of where I'm coming from," Steiner said.
She's already set the marching band on that fast pace - this March they will travel to Dallas to compete in the Festivals of Music program. They'll play concert music in the Meyerson Symphony Center, home of the Dallas Symphony Orchestra, on Friday evening, and then compete as a marching band in Texas Stadium, home of the Dallas Cowboys.
"After that's done they get to go to Six Flags : it'll be the relaxing part of the trip," Steiner said.
Before moving to Lansing this year, Steiner worked as an assistant band director in the Gardner Edgerton district outside Olathe. She was impressed every year with Lansing's band when she heard it at state competitions.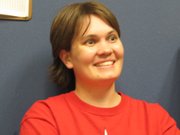 "They're on target, I thought," Steiner said. "When I saw the job was open it appealed to me because I knew this band was a strong band and a pretty good foundation of musicians and students."
The marching band is composed of grades 10-12 and meets first hour, while freshmen have class second hour. After marching season, which means after Christmas, the students split into varsity and junior varsity bands; all seniors are in varsity, all freshmen in junior varsity and sophomores and juniors split between the two. Second semester bands perform concert music.
"I want to get them playing good-quality literature musically," Steiner said of her long-term plans for the concert band section of the year. "That's the key. A lot of high schools play good literature but not musically. I want (Lansing students) to understand a little bit of the background of music so they understand where it's coming from. I'd like to have more history and theory of music."
Working to ground the students more thoroughly in traditional music isn't the only expansion Steiner is pushing for.
"I would really like to get a jazz band as a scheduled class," she said. "I think that's probably one of the most important things Lansing is lacking right now, that different side of the musical world."
When asked how she could possibly fit another band into her schedule, Steiner shrugged and laughed.
"I don't know - I could do it over my lunch period," she suggested. "I haven't figured out how I'm going to do it, but I'm definitely going to try."