This season, shop with local merchants
During business retention visits the past few months, many owners and managers have asked the city how to grasp that local shopper. After all, what good is it to encourage new business if current businesses are not attracting the local shopper? This is the perfect time of year to show your support to those local businesses by shopping in Lansing.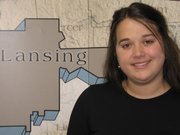 Too often we shop out of town when options in the community are available. Too easily we forget that every dollar we spend out of town is detrimental to one of our local businesses and to our local economy. We all want the convenience of local stores but then shop out of town. As a result, local businesses close. How often have you heard people mourn the loss of an establishment and then ask yourself why did you or did you not patronize that former business?
I challenge everyone to change their shopping pattern and this week purchase at least one item in Lansing that normally would be bought out of town. If the item isn't available in Lansing, ask a local retailer if they can order it for you. If the item is cheaper in Kansas City or Lawrence, seriously compare the prices; Lansing isn't always higher. Don't be afraid to ask local retailers if they will save you a trip out of town by matching the price, especially for large quantities. They can always say no, but at least you asked. Local merchants want your business and will help you get what you are looking for at a price you can be happy with.
When looking for a gift this holiday season, check out local businesses. These are just a few of the shopping options in our growing community:
¢ Take a break from holiday cooking and go out on the town to one of the following restaurants: The Overlook, La Mesa Mexican Restaurant, Connie's Cafe, Daniel's Bar-B-Q or Pizza Hut. Remember many of these establishments (including Ashlee's Special Event Restaurant) can also cater or play host to your holiday parties. Book them now!
¢ After picking out holiday evergreens at Leavenworth-Lansing Nursery, truck on over to Oasis Pools & Spas and purchase that spa you've always wanted.
¢ Book a night's stay at Holiday Inn Express, Econo Lodge, Condotels Suites or Moose Landing Bed & Breakfast for those family or friends spending the holidays.
¢ Did you know The Shoe Box carries top-named brands such as Clarks, Dansko, New Balance, Rockports, SAS, Born, Doc Martens, Birkenstocks, and Naturalizers? They also offer Oakley Sunglasses.
¢ For holiday snacks, wrapping paper and incidentals, visit your local Dollar General.
¢ E. Edwards, Leavenworth County Cooperative and Tractor Supply Company offer a wide array of boots, jackets, as well as the winter clothing to keep you warm this season.
¢ Pamper yourself or a loved one to a spa package at Body Beautiful. While in the old downtown area, drop by Babe & Grayce's Antiquables to get a unique gift for that antique-lover or collector in your family. Check out Ceal's Designs & Signs, the only locally owned screen-printing shop in Lansing. They print everything from T-shirts to ball caps and more.
¢ Visit Lansing Lumber and McIntyre Mann Carpet to complete that "honey-do" for your mate. Lansing Lumber has great tools as well.
¢ Caraway Printing is the full-service print shop in town. Keep this local business in mind when you're shopping for your family Christmas cards and Holiday party invitations.
¢ Aldi is a one-stop shop for all your holiday dinners and parties. They supply a vast amount of baking supplies, too, for your holiday treats.
¢ For your holiday "spirits," shop Gleason Retail Liquor or Robert's Liquor for a wide selection.
¢ Surprise that special someone with a new addition to the family: visit Speedway Chrysler-Dodge-Jeep or Main Street Motors and purchase a new or used vehicle.
¢ In addition to helping to heal your winter illnesses, Lansing Pharmacy offers unique gifts and cards.
¢ Have a friend who has everything? Give them a membership to our local country club. Leavenworth Country Club offers several programs, golfing events, a banquet facility, great food and more. Also, Meagher's Karate Academy is now offering a 35-and-over class for adults looking to stay in shape or begin a new hobby.
These are only a few shopping options in Lansing. For a complete list of our local businesses, visit the City of Lansing's Web site at lansing.ks.us. The business directory is listed in the upper right side. Please support our local businesses. Lansing is a great community, and it's time we learned to appreciate all that we have and be proud of it.
- Randolph is economic development/ Convention & Visitors Bureau director for the city of Lansing.