Tour, party entertain Lansing Red Hats
Members of Red Hat clubs from Lansing, Leavenworth, Tonganoxie, Kansas City, Kan., and Shawnee paid a visit Friday to the Strawberry Hill Museum in Kansas City, Kan.
The Strawberry Hill area is well known for its multiplicity of ethnic groups, and the museum houses permanent exhibits from Croatia, Lithuania, Poland, Russia, Serbia, Slovenia, Slovakia, Belgium, Germany, Ireland, Mexico and the Netherlands in its Christmas displays.
After the tour participants were entertained by Don Lipovac, a native of the Strawberry Hill environs. He shared stories of his education in music and played renditions of music specific to the ethnic communities that settled within the Strawberry Hill area.
The event concluded with a catered luncheon.
Approximately 95 people, the majority of whom were members of the Lansing Red Hat Movers and Shakers organization, participated in the tour, which was organized by Louise Leavitt.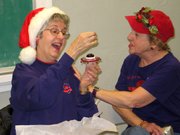 The Lansing club is an appendage of an exercise group organized several years ago in Lansing by Teresa Hilliard to provide a mechanism for women "of a certain age" to maintain their physical well being.
Membership in the Red Hatters is limited to women who have reached their 50th birthday and are interested in coming together to embrace their age with enthusiasm and humor.
The only other "rules" observed by the Red Hatters is that they dress eccentrically - red hats and red and purple attire are a must.
Women under age 50 with similar interests may join the organization. However, they must use pink and lavender for their hats and attire, until they reach their 50th birthday.
¢ Twenty-one members of the Lansing Red Hat Movers and Shakers celebrated Christmas on Tuesday at the Lansing Activity Center. Members "exchanged" holiday decorations and feasted on festive snacks.
¢ The newest issue of the Lansing Lions newsletter, The Scratchin' Post, is dedicated to the memory of Mike Neve, a club member who died Nov. 22.
Club members met Tuesday for their annual gift exchange and will help sort and distribute gifts to the Mayor's Christmas Fund on Dec. 17-19.