All they want for Christmas…
Carol fits bill for Lansing Elementary classmates
It's only by the coincidence of the season, but five students in Denise Shelley's class at Lansing Elementary School keep hearing the same question over and over:
Is it true that all they want for Christmas is their two front teeth? As a group, Alyssa Acevedo, Sydney Chiles, Aaron Hite, William Gering and Trevor Young would tell you the answer is not necessarily so. But, sure enough, the gap in their upper smiles shows the possibility that two front teeth could be on their wish list.
Aaron, age 7, said it would be nice to have his teeth back in time for the holidays. "I want to chew better. When I eat, my other teeth start to wiggle and they hurt," he said. When pressed, Aaron admitted he asked Santa Claus for a Game Boy Advance SP.
William, 8, said he, too, wanted his front chompers to return "so I can chew again. I can't chew very good."
Like Aaron, William also has his hopes high for finding some electronics under the tree this Christmas. "I want a PlayStation 2," he said.
When he was asked to repeat the gift he wanted, William said, "PlayStation 2 : I have trouble being understood, too."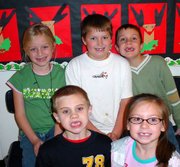 Alyssa, 7, and Sydney, 8, aren't so sure they want their two front teeth to return anytime soon.
"My grandma always sends out pictures of me with my two front teeth missing," Sydney explained. "I like it."
Alyssa said she preferred having a gap in her smile for economic reasons: "I want to keep them in my container for the Tooth Fairy."
Besides, Sydney prefers to have a puppy for Christmas, and Alyssa has high hopes for receiving a book, "Don't Let the Pigeon Drive the Bus."
The notion that a second-grader is missing his or her two front teeth isn't new to Mrs. Shelley. Throughout her teaching career, she's seen plenty of missing teeth.
"Every year there is at least one student who has their front teeth missing," she said, "but this is the first time in 29 years of teaching that I have noticed so many in one class."
Jack Stewart, who operates a dental practice in Lansing's Holiday Plaza, laughed when told about the seemingly odd coincidence in Mrs. Shelley's class. But the children shouldn't expect new teeth by the end of the month. The teeth, he said, require about a six-month span to grow back.
Though the six-month figure isn't a hard-and-fast rule, it is a fairly accurate barometer, Stewart said.
"They're just going to come down when they come down," Stewart said.
"I haven't seen too many in my 30 years as a dentist that haven't come down."
As for that Tooth Fairy, the youngsters reported the going rate for losing a tooth was from $2 to $20. And if William's luck with Santa is as good as with the Tooth Fairy - he's the one who said he received $20 - the PlayStation 2 is probably on the way.
"William," Aaron explained, "is a very good kid."