Veterans honor Pearl Harbor victim
Local man, Navy seaman still entombed aboard
U.S.

S. Arizona
A plain truth brought seven local World War II veterans to the Bonner Springs Cemetery Tuesday, Dec. 7 to honor fallen comrade Edward Olsen, a Navy ensign who died 63 years ago during the attack at Pearl Harbor.
It could have happened to them.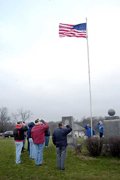 Maybe the circumstances would have been different -- Olsen died and is still entombed aboard the U.S.S. Arizona -- but only fate or blind luck separates their outcomes from his. It was his sacrifice that brought this group of the
"Greatest Generation" to the cemetery along with a handful of citizen soldiers from other wars, and it's what will keep them coming back in the future.
"Forever may his memory be a beacon for us all," said Darrell Donahue, chaplain of the Olsen-McGraw-Thompson Veterans of Foreign Wars Post 6401.
A sharp and bitter winter wind did nothing to distract the veterans from paying homage to Olsen -- a post namesake -- on Tuesday.
VFW members performed with military precision at the cemetery as they raised a flag that was flown over the Arizona on July 19, the day Olsen enlisted in the Navy 63 years ago. Veterans followed with a crisp salute as the flag was raised at approximately 7:55 a.m., nearly the same time the Arizona was struck with the first of a barrage of Japanese bombs.
VFW members said they plan to conduct similar ceremonies with the same flag on Memorial and Veterans days, as well as other special occasions, as a way of honoring Olsen and World War II veterans.
"This is a tribute to all World War II servicemen and women who have served our country with honor," said Al Stuchlik, Post 6401 public relations officer. "I personally thank you all very, very much. Gentlemen, it's appreciated."
Then Donahue, the post chaplain, addressed the heavens.
"We thank you for his sacrifice and that of others," he said during his prayer. "We thank you for all of the (soldiers) who bravely sacrificed in all wars. We thank you for the privilege of service.
"We thank you for letting us survive."
Of the estimated 2,930 lives lost during the attack at Pearl Harbor, half were sailors and Marines aboard the Arizona. According to the National Park Service, oil from the Arizona's bunkers still bubbles to the surface of the harbor, creating a vivid link to the atrocities committed against Americans more than six decades ago.
The wreckage of the Arizona, which stretches some 600-odd feet, is a major tourist attraction and one of America's most hallowed war memorials.
Heartbreak brought Olsen into the Navy, which in turn paired him with the Arizona, said Dr. James Grant Lee, a Bonner Springs native and childhood acquaintance of the late seaman.
Lee said Olsen was engaged to be married, but a couple of weeks before the union was to take place, Olsen's fiance reneged. He never quite recovered from the split, Lee said.
"It was really hard on him," Lee said. "It darned near ruined this guy. He joined the Navy because of that."
Devastated, Olsen -- a graduate from the University of Kansas school of business -- quit his job as a salesman with Woolf Brothers, "the best men's store in Kansas City, Mo.," Lee said, and enlisted in the Navy.
To be fair, the doctor says, it should be pointed out that Olsen, then 27 years old, probably would have been drafted into military service as were many of America's young men of the times. His fiance canceling the marriage had nothing to do with Olsen dying aboard the Arizona, Lee said.
After three or four months of training, Olsen was commissioned as an ensign and served as a gunnery officer aboard the Arizona. Lee, whom Olsen recruited into his Delta Tau Delta fraternity at the University of Kansas, said he would drop by to visit Olsen's parents occasionally at their downtown Bonner Springs grocery store.
Lee said he remembers he wasn't the only one who'd drop by and ask about "Eddie."
"He was a great guy, a good athlete," Lee said. "He was very well thought of. He was just a good-looking, really nice guy."
On that Sunday Dec. 7 when static-laced radio accounts began surfacing on the homeland about the Japanese attacks at Pearl Harbor, a hush fell over the Olsen family store. Lee said Olsen's fate was the first thing he thought of when he heard about the attacks.
"I listened for an hour or two," Lee said. "I knew then we were in it good.
"No one heard anything (about Olsen) for several days. Word around town was our Eddie was probably gone."
And he's stayed gone for 63 years. Lee said in a perfect world it would be nice to return Olsen's body home to Bonner Springs, but so much time has passed now and so many of his relatives are gone, he isn't sure what good it would accomplish.
"There hasn't been an effort to get the dead out of the Arizona," Lee said. "I don't know what would be gained from it now."
Lee, a medical doctor who practiced in Kansas City, Kan., for 40-plus years and a World War II veteran himself, knows a thing or two about tragedy. He knows even more about losing friends to the mayhem of combat -- local man Frank O'Flaherty, a dive-bomber pilot executed by the Japanese during World War II, was also a dear friend of Lee's.
When Lee attended the 60th anniversary of the attacks at Pearl Harbor three years ago, he stood above the site of the Arizona. He said friends like O'Flaherty and Olsen came to mind when he visited the site.
Lee added that "there aren't enough memorials for (fallen soldiers)" like his two friends.
"Anything done in their honor, anything done for Ed Olsen, is completely appropriate."