Adoptions, Angel Tree available at shelter
One cat and six dogs found new homes at the Leavenworth Animal Welfare Society's monthly adoption day on Saturday at the Leavenworth Animal Control Shelter, but there are many animals still available for adoption.
In the cat room, several adult cats that already have been spayed or neutered and front declawed are available for adoption. One of the cats, nicknamed Butterscotch by the volunteers, has been at the shelter since Nov. 1.
In the dog room, several puppies and adult dogs are available for adoption. Many of the dogs are leash trained and house-broken. Among the available dogs is an unnamed black lab/bassett hound mix.
Many of the adoption fees are refundable. Visit the shelter, 1720 S. Second St., for details. Hours are from 9 a.m. to 5 p.m. Monday through Thursday and from 10 a.m. to 5 p.m. Friday. The shelter is closed Saturdays and Sundays.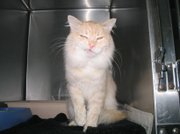 In addition to adopting a pet, there are other ways to help at the shelter. Lansing Girl Scouts are involved in the shelter's Cat and Dog Angel Tree this Christmas season.
The girls are seeking donations of small beds to help keep dogs, puppies, cats and kittens warm at night. Other items being accepted for the project are: grooming clippers for dogs, dental bones, Kong rubber toys, flea and tick treatments, Flexi leashes, general grooming supplies, over-the-counter pet medications and wormers, and edible treats and snacks.
For more information about the Angel Tree, visit the shelter or call 682-0268.