Girls' confidence rising after blowout wins
If you ask Lansing High girls' basketball coach Keith Andrews, he'll tell you Rachel Darrow picked the wrong time to take a family vacation to Puerto Vallarta, Mexico.
Judging by Darrow's recent performances, however, her hand has been so hot that she should fit in just fine south of the border.
Darrow's sharp shooting has led the Lions to back-to-back victories, including Tuesday night's 49-31 thumping of Basehor-Linwood in both schools' Kaw Valley League openers.
All 12 of Darrow's points against the Bobcats came in the second half as the Lions turned a close game into a rout. It was her second straight double-digit game after scoring 12 points Saturday in a 60-39 victory over Atchison.
"She thinks she's going to Puerto Vallarta Friday and she's going to miss Friday's game," Andrews said, citing the Lions' 6 p.m. Friday home contest against Mill Valley. "But I think we're going to keep her here for another day and pay for her flight or something. We'll send her down (late).
"Her mom made plans this summer to take her, and she looked at her schedule and said, 'Oh, the 17th. We've got a game that day. I'm leaving that day.' I said, 'No you're not. Especially not now.'"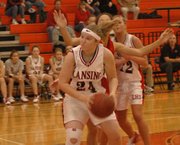 As much as Andrews hates to lose Darrow for even one game, thoughts of the trip to Mexico are eating at the 5-foot-9 shooting guard.
"I feel like I'm just going to let the whole team down," Darrow said. "I want them to do well without me and let them know that they can do it."
Darrow might not have too much to worry about. Sure, her sharp-shooting excellence - which included a rare four-point play Tuesday night - will be missed. If the last two games are any indication, however, the Lions will be OK. Darrow's emergence as a go-to scorer is only one example of how LHS has become a more well-rounded offensive team.
Last year the primary scoring threat was forward Amanda Radovich. That also was the case in Lansing's first two games this season. In the past two games, though, Darrow and senior Emily Goodlin have scored in double-figures with explosive second-halves.
"I think things are really starting to come together," Goodlin said. "It takes us a while in the first half, and then the second half we usually get over a hump."
Andrews said he was convinced his squad had turned a major corner with its all-around game, not just on the scoreboard. The Lions have controlled the boards and haven't allowed many second-chance points. Their guards have shown more patience and run the offense more efficiently. The defense also has been much better.
"We did more things right, and we really played as a team," Andrews said. "Our defense was great on their big people. We had our hands up most of the game. We were in the passing lanes, and we really just chased the ball and pushed it. That's what we need to do. They passed the ball well. They got in a couple traps where they were struggling and they held their cool."
All of those areas were drastic improvements from Lansing's first two games of the year - a 61-37 loss to Lawrence Free State and a 53-49 loss to Harrisonville, Mo. Andrews said he hoped that progress would continue against Mill Valley so his squad could go into the holiday break on a good note.
"From the first game to the Harrisonville game, we took a big step," Andrews said. "Atchison wasn't as good, but we still did good in the second half. And tonight we played more of a complete game. We're growing every day."