Resident honored for holiday display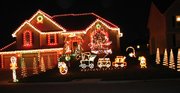 After dark, the end of Rock Creek Drive is a blaze of holiday lights. Lansing homeowner John Dolinski puts up about 15,000 lights, creating a masterwork of bright candy canes, twinkling trees and traditional Christmas scenes.
This year, Dolinski received an award for best holiday lights from the Leavenworth-Lansing Area Chamber of Commerce's Beautification Committee. It's not the first time his work has been recognized. Dolinski said he had won the award four times in the past seven years. Residents aren't allowed to win two years in a row, so every other year, Dolinski's three weeks of work are rewarded.
"I start the first of November and turn (the lights) on at Thanksgiving," Dolinski said.
Dolinski's home, which he shares with his wife Janice, was one of two finalists in the Lansing area. Committee representative Kim Baker said Dolinski would be presented with a plaque to place in his yard and a certificate.
The committee awards homes seven times each year. In spring and autumn, the award is given out for lawns and flowers, but each December it's the house with the best holiday display that wins.