Local hockey star skating her way to Boston College
Meghan Fardelmann didn't want to move away from Lansing to attend high school, but as an aspiring hockey player, she didn't have much choice.
There just aren't many opportunities for girls to play hockey in Lansing - or anywhere else in Kansas.
Fardelmann left home in the fall of 2001 to attend the Culver Girls Academy in Culver, Ind. Four years later, her goal of playing Division I hockey has become a reality. Fardelmann, now a senior at Culver, signed a national letter of intent to play hockey at Boston College.
Fardelmann chose Boston College after making official visits to Dartmouth, Brown and Yale. Ohio State also recruited her.
"Basically the difference was between going to an Ivy League school and getting a scholarship," said Fardelmann's mother, Robin Fardelmann, adding that Ivy League schools do not offer athletic scholarships.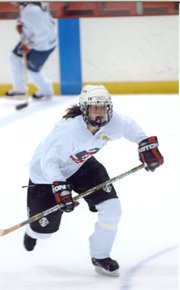 Meghan Fardelmann decided against the Ivy League and accepted a full-ride athletic scholarship.
"She got scouted here in Johnson County a few years ago," Robin Fardelmann said, explaining how her daughter ended up at Culver. "(Hockey) was a big draw for her to go there."
Since Meghan Fardelmann's arrival at the Indiana boarding school, plenty of doors have opened for her.
She was an all-conference soccer player and an honorable mention high school All-American in lacrosse. She also was an all-state selection three times in lacrosse.
But hockey is where her proudest moments have come. In addition to being a solid varsity contributor for four years at Culver, Fardelmann, a forward, currently leads the team in scoring with eight goals and five assists through 12 games.
Her greatest honor, however, came in June when she was one of 78 girls chosen to play at the 2004 USA Hockey Girls Select Festival at Lake Placid, N.Y. The tournament for 17- and 18-year-old girls allowed Fardelmann to play on the same ice where the USA men's hockey team won the 1980 Olympic gold medal.