There's never a dull moment in Lansing High School Assistant Principal Mike Bogard's life. Between being a father of five, including two infants, and performing multifaceted duties at the high school, he has about all the action he can handle.
"You never know what you are going to deal with each day," Bogard said.
With a smile, he said he was the guy people complain to. But really he's a problem solver.
Bogard's job doesn't end when the school day does. He often finds himself, both in his office and while he's out in the Lansing area, lending an ear to parents, students, teachers, administrators, community members and anyone else who has a concern with the school.
Hearing issues from all perspectives usually grants him a better view of the whole situation, Bogard said.
"Sometimes people just see how an issue affects their world," Bogard said. "I get to see how everyone is affected and do my best to solve it."
Bogard doesn't try to overwhelm himself with the many issues he deals with on a daily basis. Instead, he solves the problem he's being faced with at the time.
"I deal with the pitch being thrown at me," Bogard said.
Wearing the many different hats that he does is nothing new for Bogard. Before coming to Lansing, he was the band director at a high school in Scott City. He said he could play all the instruments.
Working with a band member from Lansing through the Lion's Club State Band is how he first heard about Lansing.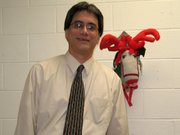 "I jokingly said, 'Your school must not be good at anything, I've never heard of it,'" Bogard said.
Later that summer he earned his administration degree. There were two openings in Kansas, one in Lansing. He applied as an administrator at Lansing Middle School and got the job.
"The student's family welcomed me on my first day of work, joking I now knew where Lansing was," Bogard said.
NAME: Mike Bogard
OCCUPATION: Assistant principal, Lansing High School
GRADUATE OF: Under-
graduate degree in music education, University of Wyoming; graduate degree in school administration, Fort Hays State
FAMILY: Wife, Wendi, teaches vocal music for Basehor-Linwood Schools; five children: a son, Jared, 25; four daughters, Adrian, 22; Emily, 18; Chloe, 27 months; Lillian, 7 months.
HOW LONG HAVE YOU BEEN IN LANSING AND WHAT BROUGHT YOU HERE: This is my seventh year in Lansing. My first three were at Lansing Middle School, then I moved over to the high school.
WHAT DO YOU LIKE ABOUT LANSING: Lansing has a great school system. The people I work with are dedicated professionals. This is my 26th year in education, and some of the best I've worked with are right here.
WHAT DO YOU DO TO RELAX: Relaxing is tough to do with the babies. I watch a lot of "Playhouse Disney," "Noggin" and "PBS Kids."
WHAT WOULD SURPRISE PEOPLE ABOUT YOU: Being the school's disciplinarian, I'm probably viewed as stern, gruff, etc., but I've got a pretty good sense of humor.
WHAT IS THE BEST ADVICE YOU HAVE EVER RECEIVED: It's hard to think of one piece of advice that's the best. I've been blessed with great parents, wife, mentors, teachers, etc., and there's no way to condense everything they've taught me.