Police busy in annexed area
Lansing Police Department is stretching its patrol bounds right along with a recent city annexation
Police cars running radar - a familiar sight on Main Street most any time of the day - now can be seen as far south on Kansas Highway 7 as Wallula Christian School, said Lansing Police Chief John Simmons.
Simmons said there were at least two reasons for the police presence: With the annexation of about 1,300 acres of land south of Gilman Road, "that's our area of responsibility," plus residents of the annexed area have expressed concerns about drivers speeding in the area.
"Many of the speed offenders we've talked to are local residents," Simmons said.
That's not an unusual situation, he said, noting that many people in the area are used to not seeing patrols and go along as they please without regard to posted speed limits.
"When people drive in unincorporated areas, they believe the speed limit applies to everyone but them," he said.
For now, drivers who are pulled over for speeding will be given a warning if they live in any of the newly annexed subdivisions.
"I think that's just good police practice when you are trying to adjust people's driving habits," Simmons said.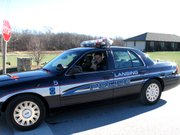 Simmons said he found, in an unscientific survey of traffic he conducted on K-7 south of Gilman Road, drivers were averaging seven to 10 miles per hour over the posted 65 mph speed limit.
"We found that the average speed was 72 to 75 miles per hour," he said. "To me that's unsafe."
His biggest worry about speeding traffic is near the entrances to the Sherwood Forest subdivision and Wallula Christian School. Experienced drivers coming out of those areas and onto the highway know how to adjust for speeding cars, he reasons. Inexperienced drivers may not know how to adjust.
"My concern is for the 16-year-old driver who is coming onto the road expecting traffic driving at 65 miles per hour and there's a person doing 75," he said.
So, the patrols are out, and they'll remain even though a lawsuit has been filed challenging the annexation.
"We'll patrol down there until a judge rules differently," Simmons said.