Post play has been key for Lansing boys
Apparently the key to the Lansing High boys' basketball team's success is nothing more than a little bit of rest.
Against Harrisonville, Mo., last Thursday in their season-opening victory, the Lions controlled the game from start to finish, but they struggled the next two days against Topeka Seaman and Savannah. LHS uses primarily a six-man rotation, so the lack of depth caught up with the boys, and dead legs took their toll at both ends of the floor.
Two days of rest allowed Lansing to rejuvenate, however, and it used a big second-half outburst Tuesday to surge past Basehor-Linwood, 55-42, in both squads' Kaw Valley League openers.
"That was huge," said junior David Kern, who led LHS was a game-high 20 points. "I think we were a lot more fresh tonight than we were Saturday after three games in a row."
Weary legs appeared to give Lansing its greatest troubles last weekend at the Bonner Springs Metro Prep Tip-off as it was held scoreless for a quarter in each of its final two games. Size didn't do LHS any favors either, considering its tallest starters are 6-foot-2 and regularly guarded taller players.
Still, with well-rested legs on Tuesday, another size disadvantage didn't seem to hurt the Lions very much as Basehor's lineup of one 6-foot-6 guy and two 6-foot-5 players did little to hurt LHS.
"It seemed like today their height wasn't as big of a factor offensive-wise," Kern said. "Rebounding-wise it was. We just didn't block out. But today we did a better job getting the ball inside. Our guards did a good job tonight."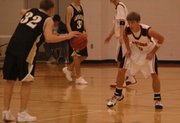 In addition to Kern, Lansing junior forward Jeff Slater chipped in 16 points. That was an encouraging sign to LHS coach Don Allen, who has been adamant that his squad needs to get the ball inside to be successful. Slater, Kern and 6-foot-5 forward Ryan Robbins combined for 34 points in the victory over Harrisonville but the big guys combined for just 20 and 23 points in the two losses.
"Our offense revolves around the posts," Allen said, "and when that works, everybody gets involved in the offense."
The Lansing forwards have needed to be productive because outside shooting hasn't been a bright spot yet for the Lions. They're just 5-for-29 from three-point range, but even the mid-range jumpers haven't been falling frequently enough.
"Our guards, we're coming around," Allen said. "We haven't had as many shots fall as we've wanted to so far, but we're going to keep slugging. They're good shooters and pretty good ball-handlers. We've got to get them in the game."
Defensively, Allen said he has been pleased with the progress his squad has made. The Lions have handled opponents' size advantage relatively well, with the Seaman game being the exception. They've guarded the perimeter effectively and haven't allowed many second or third shots. In fact, opponents have made just 36.8 percent of their shots against the Lions and only 24.6 percent of their three-pointers. Perhaps the best example of the Lions' defense came Tuesday when junior guard Chris Wagner shut down Basehor's top scorer, Jordan Fuqua, and limited the 6-foot-4 forward to 10 points on four-for-17 shooting.
The Lions (2-2 overall, 1-0 KVL) will close out their December schedule at 7:30 p.m. Friday with a home contest against league rival Mill Valley before taking a two-week break for the holidays.
Kern said it was important that Lansing won its league opener for a few reasons. Primarily, though, he said it provided a good dose of confidence.
"It's a step in the right direction," he said. "It boosts our confidence a lot. But now we've got Mill Valley on Friday and they're always tough, so if we can go into winter break (with a 3-2 record) that'd be good."
NOTES:
¢ Junior forward Jeff Slater was named to the all-tournament team at the Bonner Springs Metro Prep Tip-off. Slater averaged 12.6 points and seven rebounds during the three games. Lansing placed fourth in the tournament, which was won by Topeka Seaman.