Residents ante up for holiday drives
Representatives of two local drives said they were impressed with the spirit of generosity present in the area.
The Lansing Mayor's Christmas Tree Fund drive has had positive results, city employees said. The Leavenworth Salvation Army Kettle Drive has faced some setbacks, but a spokesman said he thought the result would be satisfactory considering the circumstances.
There were at least 96 packages Wednesday at Lansing City Hall and city employees said they expected many more to come in, despite the Monday due date for turning in presents. Residents pulled tags indicating a child's Christmas wish from the city's Angel Tree, located in the City Hall lobby.
"It's a real big turnout," said Sunshine Petrone, city employee. "We also get gifts from people who don't pull names off the tree, so that's really nice because we've gotten four big bags of stuff from people who just donated stuff to give to the kids."
The fund received eight bikes from the Lansing Correctional Facility's Christmas Bike Giveaway, six initially and then two more just this week.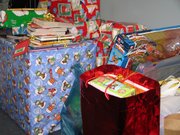 The city's administrative staff buys gifts for children who were not picked up in time. No child on the tree is left without gifts. City employees also try to even out gifts within families, ensuring that one sibling receives the same number of presents as another.
Friday is gift-giving day. Lions Club members will distribute gifts, most of which are unwrapped. Petrone said parents receiving presents for their children liked to wrap the gifts themselves.
The Salvation Army kettle drive is going reasonably well, despite an unexpected turn of events.
The drive has reached the halfway point in raising money toward its $60,000 goal.
"People are very generous, so we'll work with it, and whatever we end up with is what the Lord is going to give us this year," said Chuck Cook of the Leavenworth Salvation Army.
Cook said that when the group set its goal, it had counted on having kettle sites in Bonner Springs. The sites, however, were given to Salvation Army branches from other areas at the last minute, and the Leavenworth group didn't have time to change its goal. That they've made it this far is reason to be optimistic, he said.
"I have full confidence," Cook said. "This community's very generous and quite easily we could hit this goal. These last two weeks of Christmas are always the best times in terms of people's generosity."
There are at least 60 volunteer groups working as bell ringers outside businesses in Leavenworth and Tonganoxie. Lansing Petro Deli allows bell ringers for the first week before Thanksgiving.