Second-graders give shirts, looping thumbs-up
Second-graders individually dipped their thumbs in green paint and decorated their thumbprints, but collectively the prints created a Christmas tree.
When Kendra Toedter asked her class where her thumbprint should go, they told her she should be the stump.
We need you to hold us up, they told her.
This is the first year that Toedter and Carla Gutshull have made Christmas shirts with their classes, but they have had the same students in class for two years. The extra year that the students and teachers have shared have helped them to build a bond not commonly found in the classroom.
"It's like a little family," Gutshull said. "It's like having your own kids times 20."
Toedter and Gutshull are two of the four teachers who participate in looping at Lansing Elementary School. Looping is a situation where a first-grade teacher has the option of teaching the same group of students in second grade. The bond created by looping carries over to outside the classroom.
Both teachers said the extra year of contact with parents had helped to enhance these relationships as well.
"When a student does something good, they are usually standing right there writing the e-mail with me or making the call to home," Toedter said.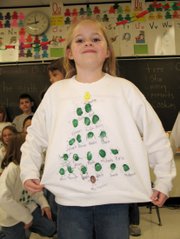 "At the same time, they know that we can call or make them call home when they've been having a bad day," Gutshull added.
Developing relationships with their students also has helped the students see their teachers as neighbors.
"Students will come sell Girl Scout cookies and come trick-or-treating at our houses," Toedter said. "They know our families."
Students who choose to participate in looping are not required to stay with the same teacher for both years, although most choose to stay. After the first year, parents, students or the teacher can opt out of having the same class for a second year.
Even the addition of two new students who entered both Toedter and Gutshull's classes this year didn't disrupt the classes' chemistry.
Gutshull, who had been teaching first grade for 20 years before making the switch to second grade with her loop class, said that the move to second grade because of looping helped to rejuvenate her career.
"It gave me a new enthusiasm," she said.
Toedter said some abstract tasks are interchangeable and can be more effectively taught at different times depending on the group dynamic. Because of looping, both teachers agree that they can do more advanced activities with their students.
"We know each others' expectations and are comfortable with them," Toedter said.
The familiarity of one another and the outside help from parents make difficult projects and activities like holiday crafts and Christmas parties much easy for the teachers to handle and are more fun for the students, they said.