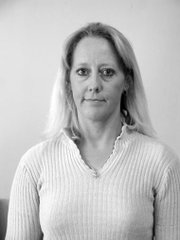 The military brought Deb Keen to the Leavenworth area, but her husband's green thumb helped the Keens to find success in the Lansing community with Leaven-worth-Lansing Nursery.
After being stationed in Hawaii, Deb and Shawn moved to Leavenworth for Deb's military work in computer/ data analysis at Fort Leavenworth.
The Keens began a nursery in Leavenworth 10 years ago and relocated to Lansing four years ago. Deb said she was happy with the move to Lansing and business has exceeded her expectations. In addition to the work in the nursery, the Keens are also landscapers.
Deb said that although she wasn't born with a passion for gardening like her husband, 10 years in the nursery business have helped her to acquire gardening skills.
Deb had some gardening tips especially relevant to the winter season. She said people frequently ask her when they should prune their plants. Late fall and early winter are usually the best times to do this, she said.
Her ideal Christmas tree is an eight- to nine-foot Fraser fir, a popular tree known for its needle retention and fragrance. Deb recommends keeping it watered daily to prevent it from going dry. If a tree is watered properly, it should stay into the New Year.
NAME: Deb Keen
ADDRESS: 905 Oakmont Dr., Lansing
OCCUPATION: Leavenworth-Lansing Nursery
FAMILY: husband Shawn, son Jeremy
How long have you lived in the area: 17 years total; 13 in Leavenworth, 4 in Lansing area
What do you like most about Lansing and what brought you here: Small community closeness, the military
What do you do to relax: I love to go fishing if I have the time
What would surprise people about you: Generosity at the holiday season and throughout the year
What's the best advice you've ever received: Dream big, but start out with things in perspective
What organizations or clubs do you belong to: Chamber of Commerce