Home for the holiday
First-graders welcome back student's father from Iraq
There's one fewer yellow ribbon hanging outside Lansing Elementary School, and that's just fine with first-grader Jonah DaSilva.
The yellow ribbons, which grace the grounds outside the school, signify a parent of a student who is serving in Iraq.
On Friday afternoon, the ribbon for Jonah's dad, Army Reserve Maj. Richard DaSilva, was taken down. A beaming Jonah, with the help of his dad, used a pair of scissors to clip the ribbon off a stop sign post.
The brief ceremony in front of Jonah's classmates, his mother and grandfather preceded the children's Christmas party later that afternoon, but it nevertheless was a cause for celebration. Maj. DaSilva had returned to Lansing from Iraq on Wednesday.
The class presented Maj. DaSilva with gifts, including a balloon bouquet. For Jeannie DaSilva, Richard's wife and Jonah's mother, there was a red rose "for putting up with me," Jonah said.
There even was a poetry recital: "Roses are red. Violets are blue. Christmas is near and so are you," the first-graders told Maj. DaSilva.
DaSilva talked to the first-graders briefly about his time in Iraq. He showed them how Iraqis said "thank you" with a gesture cupping their hand over their heart.
Afterwards, DaSilva talked about his six-month mission.
"It was a very humbling experience seeing how people lived over there, how they were treated, how they were oppressed," said DaSilva, who in civilian life is CEO and owner of DaSilva Building Services. "It really makes you appreciate how much you have here."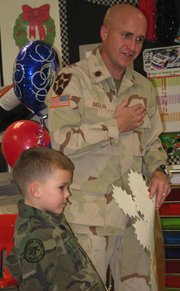 Though he was able to see the good being done in Iraq, DaSilva said that image was not shown to Americans. Among the tasks he watched were American troops building schools, laying water lines, "what they call 'military operations other than war.'"
"I wished the media would show more of the positive things. There's lots of good coming out over there. I think the American people would support it more if they knew more about what's going on over there," he said.
DaSilva's job was to teach basic infantry skills to Iraqi soldiers. He said he was responsible for trying to stand up three battalions - about 700 Iraqi soldiers - for duty. His job involved training, advising, coaching and mentoring. "We kind of referred to it as greasing the skids" for more specialized future training, he said.
His charges ranged in age from 18 to "much, much older."
"The Iraqi soldiers were very hospitable," DaSilva said. "They would give you the shirt off your back - even if it was all they owned."
The training, which took place in northern Iraq, was in an area surrounded by hotspots. Mortar fire from insurgents was a common occurrence, although the shots were generally off the mark and basically ineffective, he said.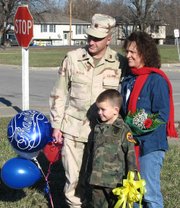 DaSilva isn't finished with his duties. He's scheduled to report Monday to Fort Riley for three to six months to train National Guard and Reserve soldiers for deployment in the war on terror, whether it be in Iraq, Afghanistan or elsewhere.
Though he's happy to be back with his family for the holidays, he's also glad he volunteered to serve in Iraq.
"I was torn on coming back. Our mission was not done; our replacements were there," he said.
DaSilva said he also was pleased with the treatment his son and the children of others in Iraq were receiving from Lansing Elementary School and counselor Janie Hodam.
"Mrs. Hodam did an excellent job in providing comfort for those children. They're very good about what they do here."
With Maj. Richard DaSilva's return from Iraq, there are five students at Lansing Elementary with family still serving in Iraq:
¢ Lt. Col. Michael Hamlet, serving with the 42nd Infantry Division and father of Alex Hamlet.
¢ Maj. Drew Brickson, an engineer with the Center for Army Lessons Learned and father of Ben Brickson.
¢ Maj. Storm Reynolds, an assistant division engineer helping to rebuild schools, roads and hospitals. He is the father of Savannah Reynolds.
¢ CW4 (P) Kenny Cline, uncle of Richard Totleben, serving in Iraq with the 15th Military Intelligence Battalion from Fort Hood, Texas.
¢ David Meredith, a civilian delivering supplies to military bases in Iraq, and the father of Allison Meredith.