Lansing boys aim to heal during two-week layoff
Injuries, depth giving Lions problems
Winter break couldn't have come at a better time for the Lansing High boys' basketball team.
The Lions are in need of a little time off to rest their weary legs and, in some cases, ailing bodies, before reconvening for the main portion of the season.
They've lacked depth through their first five games and looked tired at times as they've compiled a 2-3 record. More important, however, is that two starters - junior forward Jeff Slater and junior point guard Cody Mohan - need a chance to fully heal from any injuries, aches or pains suffered during a car accident last Friday before Lansing's 51-45 loss to Mill Valley.
Mohan missed most of the game and appeared to have reaggravated a shoulder injury he initially suffered during football season. Slater played most of the game and the extent of any injuries he may have received was unclear.
"Cody's shoulder's just a little banged up, sore. I think Jeffrey's going to be OK," LHS coach Don Allen said. "We're just thankful that all parties seem to be in pretty good health for the situation.
"Obviously we're disappointed with the loss going into break. This is one that we would've liked to have, but I'm not disappointed with the effort and how we played tonight, considering."
Allen had plenty of reasons to be pleased by his squad's final outing before its two-week layoff. The Lions raced to a 15-6 lead after the first quarter against Mill Valley and held the Jaguars scoreless for a 4:18 span between the first and second quarters. Junior guard Chris Wagner's stifling defense limited Mill Valley point guard David Woods to just four points in the first half.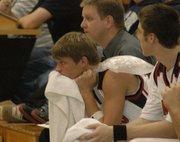 In addition, LHS drained three of its five three-point attempts in the first quarter as Wagner sank one and Matt Warner nailed two. At the time it appeared as though the Lions' off-target outside shooting was starting to find its mark for the first time all season.
"We've got good shooters," Allen said. "We haven't been as aggressive offensively, and it'll come. I haven't really been too concerned about it. They understand that when they get open looks we expect them to knock them down."
Lansing's early-season shooting woes returned in the second quarter, however, and the Lions saw their cozy nine-point lead disintegrate into a two-point halftime advantage. Then they trailed almost the entire second half as shot after shot rattled out.
On the bright side for LHS, it did appear to find a bit of clarity in its search for help off the bench. Both Ryan Robbins, the first and only real option in the first four games, provided more quality minutes while sophomore Jeff Jackson received praise from Allen for his six-point effort. Jackson nailed a short jumper and a pair of free throws early in the fourth quarter that helped Lansing rally to within two points with 6:09 left in the game.
"Both of those guys did a nice job for us," Allen said.
But, Allen said, "We'll continue to work and find a couple other people that can give us minutes. I'm not disappointed with the way that we played tonight. It was one of those where Mill Valley, they finished better than we did. That's the bottom line."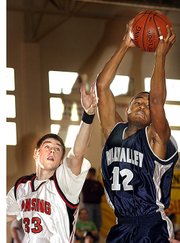 Lansing's upperclassmen haven't exactly had their fair share of experience yet, considering there are no seniors on the roster. That being the case, Allen said he thought the loss was a good learning experience for his players and that they may benefit from it later in the season.
"It's one of those things that goes back to somewhat of experience in finishing basketball games," Allen said. "These guys, they've got a fair amount of varsity time under their belt, but there's a big difference between coming in for three minutes and finishing games. We'll learn from it this game, and it won't happen next game."
The Lions return to action Jan. 4 at Tonganoxie.